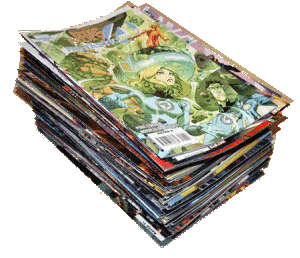 Guest Post by Stephen Hamilton
I just finished looking through my comics a few hours ago, and started to reflect on all the things I've picked up since I have started collecting. A common misconception is that there is not a whole lot that goes into collecting comics and people just leave them stacked in their parents attic. This goes more along the lines of hoarding and is not a good idea for anyone looking to earn back some of the money they have spent on purchasing comic books. There are a few things to keep in mind when collecting comics that I would advise anyone to consider to avoid wasting money.
1. Timing
Collecting comic books is kind of like watching the stock market. At times, comics can only be worth what you paid for them, or worse, less; and can skyrocket in price the next day or week. It is important to "catalog" or look through and price your collection every few months just to make sure you know what your collection is worth. Knowing when to buy and sell can help you double or even triple the amount of what you have put into your collection.
2. Know what "value" is
At times I find myself buying things that only I like, which is great because that is the whole point of collecting comics; but for someone looking to make a bit of profit in the process, it is important to know what "good" comics look like. The main comic book companies to look out for are Marvel, DC, Image, and Vertigo; and it is important to keep an eye out for the more popular artists and writers for any upcoming things they may be working on. When collecting new comics, ALWAYS (I cannot stress enough) get the first edition copy of a number 1 in a series because that is usually the one that will go up in price first. It is a very bad feeling when a number 1 goes up to the hundred or thousand dollar range and knowing you could have gotten it for three bucks.
3. Protection
As most investments, proper handling and storage of comic books are priority number 1. There are many different bags, boards, boxes, folders, and cases that can be used to safely store comics while they are in your possession. Comics should be sealed and safely stored away in specially sized cardboard boxes away from moisture and humidity to prevent and damage from occurring. Since comics are printed on paper, the plastic bags are used to prevent the paper from fading or discoloring and the boards are to ensure the pages stay unwrinkled and maintain a nice crease. When you get into having comics in the thousand dollar range, companies such as
Smith Security
can protect your home and make sure your comics are safe from theft. I read an article the other day that the value of Action Comics number 1 featuring Superman first printed in 1938 jumped from $300,000 to $1.5 million! That's insane! With things like the adaptation of comics becoming movies and television shows, the value of comics increasing is becoming a more frequent thing.
These are just a few tips I have for anyone considering getting into collecting comics. There is so much in this hobby that goes on behind the scenes that most people do not understand, but can be very fun and exciting once you get really into it. With the advancement of technology, it's nice to sit back every now and then and have things like comic books to remind me of the simple things in life. The hand drawn artwork and creative stories are what drew me to comics in the first place, and by hopefully by collecting them I will have a bit of my childhood to pass along to my children.
About The Author:
Stephen Hamilton
is a writer for
Smith Monitoring
. He is an avid gamer, movie buff, musician, and comic collector