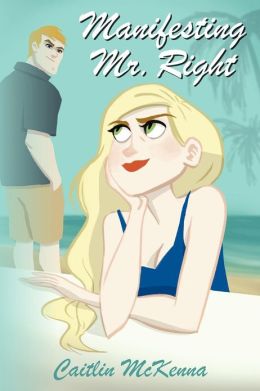 Title: Manifesting Mr. Right
(
Amazon
and
Barnes and Noble
)
Author: Caitlin McKenna
Genre: Romantic Comedy
Pages: 268
Price: $0.99
Rating: 4 out 5 stars
Book Synopsis:
While standing at the altar, about to marry a handsome, charming, and successful attorney, Ashley Braxton catches a shared look between her betrothed and her maid of honor—one which tells her she can't go through with the ceremony. And when she's crying in the bridal room of the church, trying to figure out where it all went wrong, she has an epiphany. Ashley realizes that she's been the consummate pushover her entire life, and now she's living a life for everyone but herself.
Jessie, Ashley's carefree friend from college, tells Ashley that she can have any life she wants. All she has to do is manifest it. Ridiculous, Ashley thinks, and not understanding the power of manifestation, she blurts out her dream life to a couple of strangers in an elevator. Thinking nothing of it, Ashley carries on with the life she doesn't want. But soon her checklist of wishes begins to come true, starting with her dream guy. Could manifestation really work? Could she have the life she's always dreamed of having?
Ashley begins to believe that she can, giving her the courage to take control of her life, but just as she does, her ex shows up and tries to ruin it all. Will she give up and remain the consummate pushover forever or will she stay strong and fight for her dreams and desires?
Review:
Ashley does the unthinkable when she says no at the alter. Walking out on her own wedding, Ashley is faced with starting a new life and she has big dreams, including an incredible guy. When everything starts to fall into place, Ashley can't help but believe in the power of manifestation. Unfortunately, her ex has plans to ruin it all. Manifesting Mr. Right is a light read that you can enjoy any time day or night. Curl up with this book while unwinding or during your lunch break. Either way, you're going to enjoy this gem.