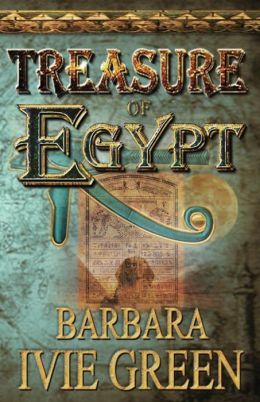 Title:
Treasure of Egypt
Series: Treasure of the Ancients, Book 1
Author: Barbara Ivie Green
Genre: Romantic Comedy/Adventure
Pages: 363
Price: $0.99 or FREE for Prime Members
Rating: 5 out 5 stars
Book Synopsis:
In the year 1863, a time when the whole world was seeking Egypt's secrets, an ancient map, leading to the greatest treasure known to man, resurfaces. As luck would have it, Lord Alecsian Brighton wins the mottled old scrap of parchment in one of London's most notorious gaming hells, along with its ominous curse.
Despite the allure of treasure, Alec has no real interest in gallivanting across the Egyptian countryside in order to find it. He isn't even persuaded by his friend and cohort, Samuel's enthusiastic zeal. It's only his mother's escalating interest in his marital status that gives an extended vacation sudden appeal.
The mysteries unfold as tantalizing clues sweep us across two continents, from wild runaway carriage rides, to action packed chase scenes through the streets of Alexandria. When our lost lords are captured by Bedouin tribesmen, Samuel barters for their freedom. It seems like the perfect solution . . . marrying Alec off to the Plague of Egypt . . . and that is only the beginning!
This book explores the wonders of Egypt, where the mysteries hidden within the pyramids and temples which have tantalized us for two thousand years are finally revealed. Journey through ancient Egypt, explore a hidden tomb, experience the twelve hours of the Amduat, and discover the answer to one of the greatest mysteries of the ancient world, the origins of the Sphinx, as well as several hieroglyphic symbols which have remained either misidentified or unknown altogether. . . . This book will not only amaze the world, but Egyptology will never be the same.
Review:
Treasure of Egypt is the type of book that your eyes want to consume faster than your brain can comprehend. It's like getting your hands on an email or letter you've been waiting on and wanting to know as much as possible as quickly as possible. Barbara Ivie Green writes in such a way that the words just flow and her descriptions put you right in the middle of the action. I highly recommend this book and can't wait to read more from this author.