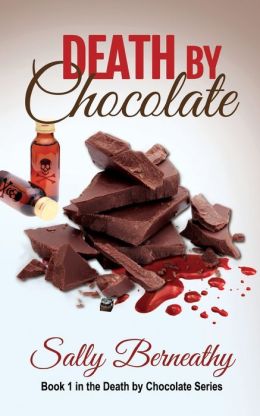 Title:
Death by Chocolate
Series: Death by Chocolate, Book 1
Author: Sally Berneathy
Genre: Cozy Mystery
Pages: 313
Price: $2.99
Rating: 5 out 5 stars
Cozy mysteries have recently become one of my favorite genres. I especially love mysteries that feature pets or great food. Death by Chocolate by Sally Berneathy not only has an amazing plot with an unexpected ending, but delicious sounding food and an adorable cat named King Henry. What's even better are the recipes found at the end.
I found this book very easy to get into and read through it rather quickly. There were a couple areas of the book that gave me an uneasy feeling. The book does feature a woman who has been beaten in the past by her ex-husband and when she finally tells the story to her best-friend (the lead character), it's a chilling tale. However, the scene really adds to the overall feel of the book and wouldn't be the same if readers didn't have the whole story. In other words, it stirs the right emotions in the reader to make the book even better.
Death by Chocolate by Sally Berneathy was one of those books that actually made me laugh out loud several times. And made me hungry on more than one occasion. If you love cozy mysteries, this one is a must. I can't wait to read the rest of the books in the series.