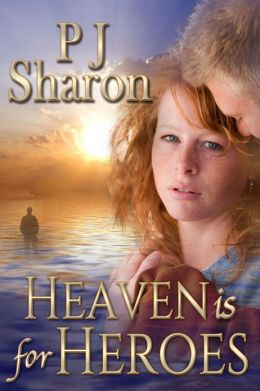 Heaven Is For Heroes by PJ Sharon
$2.99
Smart and athletic seventeen year-old Jordie Dunn has a bright future planned, but when tragedy turns her life upside down, she begins to question not only her future, but the facts surrounding her brother's death in Iraq. The military's account that his best friend and fellow Marine, Alex Cooper, is at fault, is a notion she refuses to believe. Alex was the careful one--the shy, protective, computer geek she's had a crush on since the ninth grade, and she knows better than anyone that her troubled brother had a dark and reckless side—a secret she's kept for far too long.
With no memory of the incident that killed his best friend, nineteen year-old Alex Cooper returns home, shattered and facing a difficult recovery. Determined to go it alone, he pushes Jordie away. No longer the freckle-faced tom-boy who followed him and Levi around as a kid, she has become a beautiful and stubborn young woman who believes in him far more than he deserves.
While Jordie's unique approach to rehab pushes Alex to extremes, the two discover that their childhood friendship has grown into more. The attraction has Jordie's head spinning and her heart soaring, but Alex struggles to deal with his guilt, his loss, and the nightmares that continue to haunt him. Even though Jordie is determined to help him heal, and even more determined to find the truth, what she doesn't expect, is to find love.
Excerpt:
As promised we ate fish for dinner. Three trout, two large-mouth bass and an old boot made up the day's catch. The old boot was thrown back along with a dozen sun-fish, and both Brig and Alex were a deep shade of red-brown like native warriors. I was a lobster. Red stripes marked all of the areas I'd missed with the sun block, and I'd forgotten my face entirely. My cheeks and forehead felt hot and tight, my nose stiff.
"
Are you sure you still want to go to the movies?" Alex looked on with sympathy as Mom spread after sun moisture lotion onto my skin. It smelled of mint and had some kind of numbing agent that tingled over the burned areas of my shoulders.
"
Absolutely. I'm fine." I rubbed the lotion on my nose and cheeks, and winced at the sting.
Alex looked doubtful. "We can do it another time."
"
No. This is great. I'm fine," I repeated. I pushed Mom away, giving her an impatient glare. I was going to the movies if I had to bring a cooler full of ice to stick my face in. The only movie theatre in a thirty mile radius was an old Drive-In that had been open for decades. I couldn't wait to be alone in the CR-V with Alex. Then we'd see if he was interested in me.
Another shiver ran through me. Great, now I had the chills to alternate with the flames of hell. The thought of Alex touching me suddenly didn't sound so appealing. Crap.
"
Take it with you," Mom said, a mild look of satisfaction on her face as she handed me the lotion.