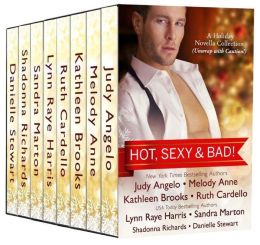 Hot, Sexy & Bad (A Holiday Novella Collection)
$0.99
This Holiday Season grab the gift everyone wants. Eight BRAND NEW novellas by Eight Best Selling Authors that will light your fire and warm your heart. But be warned, unwrap this collection with caution!
A USA Today Bestseller!
New York Times Best Seller Judy Angelo's Rome for the Holidays'
When Rome Milano meets the hot and heavenly Arie Angelis he learns that he can't always have his way. He's used to calling the shots, but not this time...
New York Times Best Seller Melody Anne's Holiday Treasure: An Anderson Series Novella
Tanner Storm is on Santa's naughty list this year. Can a beautiful woman get him on the good list, or will he get only coal this year?
New York Times Best Seller Kathleen Brooks's Dancing Beneath the Mistletoe
Hiding behind their masks, Elle Simpson and Drake Charles are looking for someone to spend one hot night with. Instead will these two find love at the masquerade ball?
New York times Best Seller Ruth Cardello's Recipe for Love: An Andrade Christmas Novella
All Madison Andrade wants for Christmas is a place to hide, but she cooks up much more than that with the lusty Frenchman she stays with in this prequel to the Legacy Collection.
USA Today Best Seller Lynn Raye Harris's Hot Package: A Hostile Operations Team novella
Can HOT special operator Billy "The Kid" Blake save his ex-lover and thwart a conspiracy before time runs out?
USA Today Best Seller Sandra Marton's The Gift
Can ex-Special Ops warrior Kazimir Savitch save Ekaterina Rostov from marriage to a dissolute prince? After one incredible night together, Kaz vows that he will, no matter the cost.
Shadonna Richards's The Belmont Christmas Bride: The Bride Series
Jilted the night before her wedding, Olivia McAlister will have to face three hundred guests, alone. Will the hot, sexy and mysterious Dane Romano save the day—and her heart?
Danielle Stewart's Half My heart: A Clover Series Novella
Devin Sutton has come back to Clover to settle the score. Is there enough room in his heart for love and revenge?