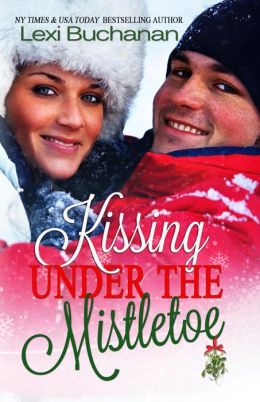 Kissing Under the Mistletoe by Lexi Buchanan
$2.99
Intended for Mature Audiences 18+
Gabe has been brought up with Bree, since he was nine years old when his parents died. Now he's twenty six and been in love with Bree for the past seven years. She's coming home for the holidays and has him so tied in knots he can't think straight.
Bree avoided going home for the holidays last year because she didn't think she'd be able to handle being around Gabe, the man she's in love with, who she thinks she can never be with. Or can she?
To begin with both Gabe and Bree sneak around together and eventually Bree's mother finds out and accepts them as a couple, but announcing it to her father causes heartache with the bombshell he drops.
Join Gabe and Bree in a Christmas story where love conquers all.... and were Bree discovers Gabe knows just how to use a red ribbon.....
This is a completely rewritten story to previously published 'Under the Mistletoe.'
Excerpt:
Bree
Traveling home for the holidays squished between a man who smells of a nauseating blend of day old sweat and cigarettes, and an adolescent boy who can't stop grinning at me certainly isn't my idea of fun.
I've been on the go since four am, which was when I left for the airport to catch my flight, filled with excitement to see my family after so long away. While I was making my plans, I'd talked to my dad on the phone. He'd seemed just as excited as I was and he'd suggested traveling to meet my flight, but I'd told him not to make the journey. It would have been a six hour round trip and I don't have a problem taking the bus. He'd eventually been talked out of it.
The bus is now fifteen minutes out from town and the butterflies in my belly have started. It's been two years since I've been home. Two very long years spent trying to get Gabe out of my head and heart, but I have a really bad feeling he's there to stay.
I sigh and turn toward the portion of window that I can see past my fellow passengers, but I'm not looking at the view in front of me. Instead, I'm looking back several years and miles away. Back then, I'd gone home for the holidays and stepped right off the bus in town to be greeted by Gabe, all six-foot-three inches of him, only to be hit with a surge of lust and love so strong, it had frightened the life out of me. It had stopped me dead in my tracks, because Gabe, to all intents and purposes, is my brother.
He had been nine when my parents, Martha and David, had taken him in to live with them; his parents having been killed in a car crash. So, although we're not related, we'd grown up in the same house as brother and sister.
Having always been aware of him, it wasn't until two years ago that I realized just how much he means to me. Now, I'm stuck on this godforsaken bus going home again to the man I've fallen in love with, who I can never be with, and it hurts.
The sudden jerk of the bus draws me from my memories and I glance around at the familiar buildings outside the window. The bus is idling with its doors open at the stop in town. I struggle through the throng of people blocking my way to the exit; the congestion caused mainly by people with kids restless in their seats, or bags that haven't been placed in the compartment to the side of the bus.
Finally, descending the steps, I collect my bag, which I leave to the side while I take in some much needed fresh country air. "Mmm. Home."
Even better than the fresh air is seeing the town I haven't realized I missed until now.
With a lung full of fresh air, I stand to one side and drink in the sights of the small town square, which is always wonderfully lit at Christmas. This year is no exception. The
general
store is covered in
colored
lights with a Santa and his reindeer lit up on the roof. Jacy's Pharmacy has small Christmas trees along the front of the roof with holly-shaped lights in the windows, and the trees around the town square are decorated with gold lights.
"
Are you going to stand around all night, Sis?"
Jumping, I spin around to find my brother, Travis, standing a couple of feet away with a huge grin on his face. He's just as I remember; tall with broad shoulders, wearing his usual wardrobe of jeans and boots with his winter jacket, gloves and hat hiding his sandy-blond hair.
Without a thought to the ice, I run the few feet separating us and throw myself straight into his arms for a really big hug.
"
You look good, Sis," Travis tells me with a catch to his voice.
"
You got one of them for me?" My heart flips at the voice.
Gabe.
Not wanting him to notice how much his presence means to me, I turn and start to walk towards him with a smile on my face. In the background, I just catch Travis mumbling about going to retrieve my bag.
When I reach Gabe, he opens his arms. Without another thought, I walk straight into them and wrap my arms tight around his waist. His jacket is open as I bury my face against his chest and breathe in the scent of him. I've missed him so much, and being in his arms brings tears to my eyes. He seems to be holding on to me just as tight, as though he never wants to let me go. "I've missed you, Gabe," I whisper. God he feels so good, and the delicious smell of his sweet cologne almost unravels me with desire.
"
I've missed you too, Bree." He leans down, kissing me on the top of my head, while he smoothes his hands down my back, causing shivers to follow.