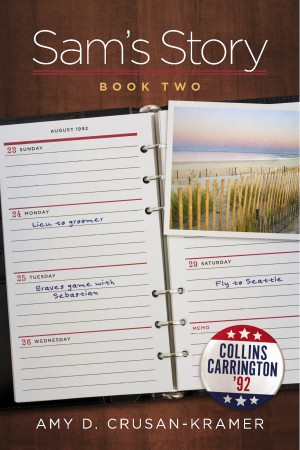 Title:
Sam's Story: Book Two
Series: Skylar Trilogy
Author: Amy D. Crusan-Kramer
Genre: Coming of Age
Pages: 848
Price: $3.99
Rating: 5 out of 5 stars
Book Synopsis:
In this captivating saga, Samantha Skylar experiences undying passion and endures one horrific act of brutality that sweeps her into the arms of the second most powerful man in the country. Samantha's journey takes her from the poverty and close-minded attitudes of a tiny, coal-mining town in West Virginia, to the estate of one of Atlanta's oldest and wealthiest families. This epic trilogy follows Samantha from the age of 14 to 40.
Book Two opens in 1987, eight years after the events of Book One. Sam is living the life she had only dreamed of as a young girl in poverty-stricken West Virginia. She has a best friend, her own apartment and a good job. Sam fancies herself the epitome of the modern independent woman. Due to the debilitating losses Sam suffered as a young girl, she is understandably hesitant to make herself vulnerable to another person, and struggles with emotional intimacy. When she finally allows herself to love again, she suffers a heartbreak that takes years to heal.
1992 is a pivotal year for Sam. She spends two months on the campaign trail as the personal assistant to the Democratic candidate for the Vice Presidency of the United States. During her time away from Georgia, Sam realizes what, and who, is important in her life and she is confident of the direction the rest of her life will take. But the fates can be cruel … and a visitor from her past changes everything.
Review:
Let me start by saying the Sam's Story Book One was one of the most heart-felt, coming of age novels I have ever read and Book Two is no different. Amy D. Crusan-Kramer does an amazing job at penning a story that will make you laugh, fall in love, and shed a tear more than once. Those of you that are tired of short novels will certainly love Sam's Story. There are no shortcuts in this heartwarming series. I won't lie though. Sam's Story does have tragic moments that will tear your heart apart. With that said, it's such an amazing story and wouldn't be the same without those moments. I highly recommend this series to anyone looking for a serious, true to life trilogy.