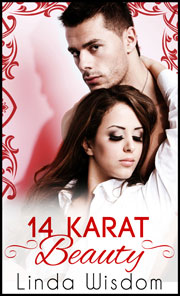 Title:
14 Karat Beauty
Author: Linda Wisdom
Genre: Contemporary Romance
Pages: 126
Price: $3.99 or FREE for Prime Members
Rating: 5 out of 5 stars
Book Synopsis:
From the moment they met, Paige Garrison knew that Linc Tanner was someone special. Arrogant and magnetic, he seemed to her as dangerous as his profession: auto racing. She came from a different world, and her wealthy father always intended that she should marry money. How could she tell him that she had fallen in love with Linc, a man who thought nothing of risking his life--and with it, her heart!
Review:
I love the concept of a girl that has been raised one way, going against everything she's ever been taught, and following her heart. Of course, when that means introducing a character that is dangerous and sexy, the story is even better. 14 Karat Beauty is another excellent romance from Linda Wisdom. If you love contemporary romances, you're going to love this book.