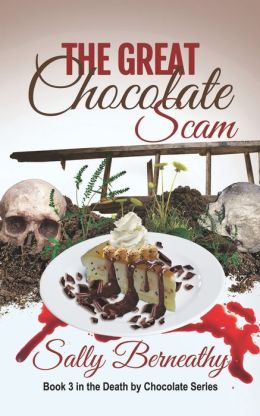 Title:
The Great Chocolate Scam
Series: Death by Chocolate, Book 3
Author: Sally Berneathy
Genre: Cozy Mystery
Pages: 273
Price: $3.99
Rating: 5 out of 5 stars
Book Synopsis:
Lindsey Powell is finally free of her estranged husband, though she's trying not to be too tickled pink. See, he didn't sign the divorce papers. Instead, he went up in a puff of smoke, or rather a big explosion. Either way, she's free, free at last. Unfortunately, she's now saddled with her in-laws and a woman who claims her child is Rick's son - all of which are trying to get in on his estate. It would have been so much easier if Rick had just lived long enough to sign those papers.
Review:
An absolute laugh out loud cozy mystery. Sally Berneathy is quickly becoming one of my favorite authors. Not only are her characters amazing, but the story is written in such a way, that it could be real. I think The Great Chocolate Scam is the best of the series so far. I laughed so many times and there were lots of scenes with my favorite character, Fred. I highly recommend this book to anyone that wants a good laugh, enjoys cozy mysteries, and loves chocolate. The recipes at the end of the book are simply to die for.