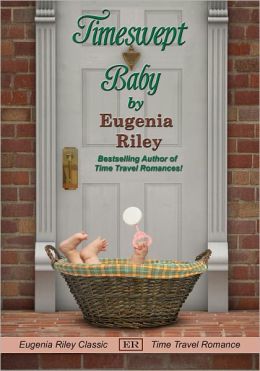 Title:
Timeswept Baby
Author: Eugenia Riley
Genre: Time Travel Romance
Pages: 106
Price: $0.99
Rating: 5 out of 5 stars
Book Synopsis:
From #1 Kindle Bestselling Time Travel Romance author Eugenia Riley, author of BUSHWHACKED BRIDE and WANTED ACROSS TIME!
When single mom Emma Fairchild awakens in a Chicago hospital, she is stunned to discover her newborn baby is missing. Then she is presented with the outlandish possibility that the stork panicked in the delivery room and delivered Emma's bundle of joy to the wrong century! Receiving a bizarre "ticket through time," Emma tears it up and immediately starts spinning back in time herself!
Meanwhile back in Victorian London, notorious rogue Matthew Weymouth, Earl of Worthing, is trying his best to seduce his reluctant mistress when the two encounter an abandoned baby on the stoop of Matthew's townhouse. Even as Matthew's outraged paramour slaps his face and storms off, a gust of wind sweeps over him. Suddenly he is confronted by a beautiful young woman in outlandish clothing who accuses him of stealing her baby.
Even as mother and baby are joyously reunited, sparks fly and romantic complications abound between Emma and Matthew. Emma must come to terms with her amazing journey through time and discover why she and her infant were "delivered" to sexy Matthew Weymouth's stoop. Matthew feels enchanted by mother and child, and is tempted to give up his rakehell ways. Will Emma find her soulmate here in Dickensonian London—as well as a father for a precious baby who so desperately needs one?
TIMESWEPT BABY is Eugenia Riley at her best: touching romance, humor, time-travel, and a cast of unforgettable characters! The novella contains approximately 31,500 words or 150 text pages.
Review:
This is one of the most fast-paced books I've read in a long time. I absolutely love Eugenia Riley's books. Her stories are always incredibly unique and Timeswept Baby is no different. I was impressed at the storyline and the idea of a baby being delivered to the wrong time period. This may be the best book of her's that I've read yet. Can't wait to read even more from her!