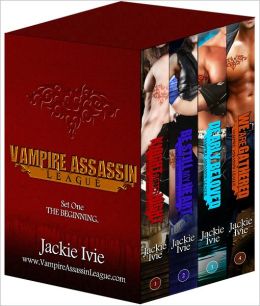 Title:
Vampire Assassin League, Bundle One: The Beginning
Series: Vampire Assassin League, Book 1 - 4
Author: Jackie Ivie
Genre: Paranormal Romance
Pages: 281
Price: $0.99
Rating: 5 out of 5 stars
Book Synopsis:
WE KILL FOR PROFIT...
Welcome to the world of Vampire Assassin League, where the contract is just the beginning. In VAL there's no line a vampire won't cross to secure a true mate once found. Only death can separate them….
Set One: The Beginning contains the following novellas:
KNIGHT AFTER NIGHT: Scot laird Thoran MacKettryck has met his mate, after years of bitter longing and endless existence. He expected someone more experienced; a little less quick with her tongue; a bit more agreeable. What he got was his perfect match – Jolie Pritchard.
BE STILL MY HEART: Sasha Stroyanovich is pure killing machine. There isn't a man out there safe from her relentless need for vengeance. She hasn't got a heart. She hasn't got a dream. She hasn't got anything other than hate. And then she tries to kill Dr. Stuart Findlay.
DEARLY BELOVED: Dominick Miklos St Guis is a recluse. A shadow. Killing and draining blood without leaving a trace. It's his signature. Until something goes terribly wrong and he winds up with a captive who came very close to killing him. And for that, Courtney Dwyer is paying…
WE ARE GATHERED: Tristan Navarre Invaris died a crusader knight - a warrior steeped in lessons learned at the end of a sword blade. He's got everything under control as VAL's Innovation Specialist. And then something goes awry as the one thing he can't fathom enters his tightly controlled world: A female. Rori. His mate.
Review:
I absolutely loved this collection. Each story was great, but I think my favorite was We Are Gathered. Jackie Ivie creates such unique stories and incredible characters. And these books are HOT. If you want to warm up on these cold winter nights, I highly recommend these books!