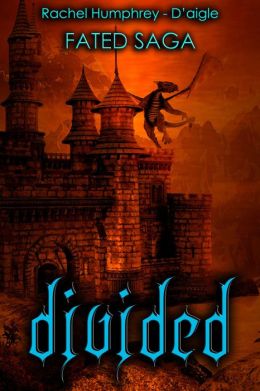 Title:
Divided
Series: Fated Saga, Book 5
Author: Rachel Humphrey-D'aigle
Genre: Young Adult Fantasy
Pages: 244
Price: $3.99
Rating: 5 out of 5 stars
Book Synopsis:
Truth can hurt, but secrets can kill...
"His father looked down at him with greedy eyes, lunging forward, and in one fluid motion plunged the dagger deeply and directly into his son's immortal heart." - Book Five in the Fated Saga.
When the truths you have believed all your life turn out to be lies… When you are betrayed by the very people that have sworn to protect you… When you discover your life is no longer your own…
What would you sacrifice to take back what belongs to you?
Your friends? Your family?
Would you be willing to sacrifice your own life?
To some, the importance of truth is more important than life itself.
Review:
This was by far the most powerful book in the series so far. Divided is emotionally charged and features darker elements than the previous books in the series. Personally, I loved it. I love to read a series that gets darker and more adult as the characters grow and adapt. If you're looking for a great young adult fantasy series for your children or yourself, I highly recommend this one.