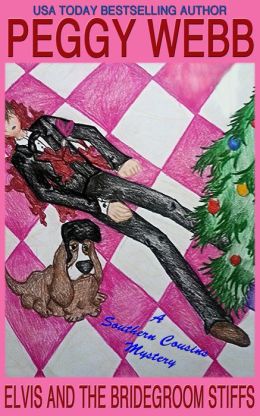 Title:
Elvis and the Bridegroom Stiffs
Series: A Southern Cousins Mystery
Author: Peggy Webb
Genre: Cozy Mystery
Pages: 157
Price: $5.99
Rating: 5 out of 5 stars
Book Synopsis:
Christmas wedding fever and scandal are in the air! The bride ditched everybody's favorite feed and seed man for a stranger who has women all over Mooreville swooning. It's enough to make Callie Valentine Jones turn in her hair-cutting scissors, especially when she finds them buried in the bridegroom's neck and herself as the prime suspect! Callie, her cousin Lovie, and her famous dog Elvis lead the law on a merry chase as they try to catch the killer before Callie ends up singing "Jailhouse Rock."
Review:
This was the first book I'd read of the series and at first I was a bit lost, but so glad I stuck with it. Elvis and the Bridegroom Stiffs can certainly be enjoyed as a stand alone book and is an excellent cozy mystery. I immediately fell in love with the characters and laughed out loud several times at Fayrene and her poor choice of words. Peggy Webb has created such an amazing series. If you love cozy mysteries, you're going to love this one.