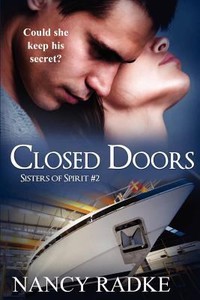 Title:
Closed Doors
Series: Sisters of Spirit, Book 2
Author: Nancy Radke
Genre: Contemporary Romance
Pages: 266
Price: $0.99
Thoughts: Loved it.
Book Synopsis:
A successful man with a tragic secret.
A young teacher with an oppressive family.
Will she help him, or destroy him?

Review:
Nancy Radke writes extremely addictive fiction. Her contemporary romances are my favorites and Closed Doors is no exception. The story pulls you in from page one and keeps you turning the pages. Can't wait to read more of this series. I just love it.