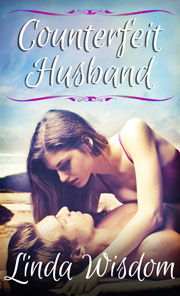 Title:
Counterfeit Husband
Author: Linda Wisdom
Genre: Contemporary Romance
Pages: 149
Price: $3.99 or FREE for Prime Members
Thoughts: Great storyline.
Book Synopsis:
TO DO:
- Get a haircut
- Cancel appointments
- Hire husband?
It was the only way Chloe Sumner could protect herself from a lecherous business rival on a luxury cruise. But what "husband" could Chloe trust to spend every day -- and every night -- in skimpy cruise wear and one cramped stateroom?
1-800-HUSBAND was good, but not even Chloe could believe the husband they gave her would know her better than she knew herself...would ignite her with one searing glance...would be Dalton James her ex-husband!
Review:
Who doesn't love a book that features a second chance at romance? Counterfeit Husband is such a great spin on the typical get-back-together romance. You have a woman in need and a guy who can give her what she needs, but haven't they already been down this road before? Trust me. It's a great romance that will keep you flipping the pages to see how it ends.