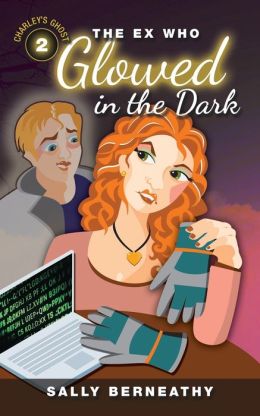 Title:
The Ex Who Glowed in the Dark
Series: Charley's Ghost, Book 2
Author: Sally Berneathy
Genre: Cozy Mystery
Pages: 277
Price: $3.99
Thoughts: Great climax.
Book Synopsis:
Amanda was in the process of divorcing her lying, cheating husband Charley when he was murdered, so she's stuck with his last name. And even worse, she's stuck with his ghost.
She can't seem to get rid of his ghost, but at least she is able to go to court and get rid of his name. Elated at the small victory, she returns to her motorcycle repair shop ready to celebrate. But her assistant, Dawson, is having a meltdown because his younger brother has been kidnapped.
Amanda can see the obvious pain Dawson is in, but in the two years he's worked for her he's never mentioned a brother. Is this brother real or only an avatar from one of the computer games he loves to play? Charley thinks Dawson is losing it. Amanda thinks Charley lost it a long time ago.
Dawson produces an e-mail from johndoe666@e-mail.com demanding computer code written by Dawson's father as ransom for the boy. That seems a little odd. Don't kidnappers typically want large sums of money in unmarked bills as a ransom?
When Dawson tells Amanda his name isn't really Dawson Page and that, since his parents were murdered two years ago, he and his brother have been living under false identities bequeathed to them by their father, she really begins to worry about him.
Then she talks to his next door neighbor to find out if he saw anything, and the man wearing a tin foil hat tells her he's never seen Dawson's brother, but if somebody's missing, aliens undoubtedly took him to work in the crystal mines on Alpha Centauri.
Though the kidnappers have warned Dawson not to bring in the police, Amanda decides the situation has gone beyond her ability to help by offering a cold Coke and soothing words. She calls Jake Daggett, the detective who saved her life a couple of months before. Charley isn't happy about that. He claims she only called Daggett because she wants to see him again. That really isn't the only reason, but he does look nice in his T-shirt stuffed with bulging biceps, pecs and deltoids.
In case the kidnappers are watching when he arrives and might identify him as a cop, Amanda greets him as cousin Jake and throws her arms around him in a friendly cousin sort of way which Charley finds completely unnecessary.
Will the kidnappers believe Jake is her cousin? Do the kidnappers even exist? Is Grant only an Avatar? Will Amanda ever find a way to torture Charley? Will she give up her trademark Coke for a Pepsi? Will Global Warming melt Amanda's Magnum Double Chocolate ice cream bar?
Okay, you need to test that last question for yourself, but the answers to everything else are in this book!
Review:
Another great book from Sally Berneathy! I love how action packed this one was at the end. Berneathy really knows how to build a climax with a satisfying ending. I loved learning more about Dawson and seeing Jake and Amanda grow a little closer. I also loved that Charley was still annoying as heck, but also helpful. All in all, it was an awesome book.