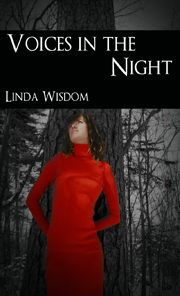 Title:
Voices in the Night
Author: Linda Wisdom
Genre: Romantic Suspense
Pages: 206
Price: $3.99
Thoughts: Addictive.
Book Synopsis:
HIS VOICE WAS HER HEARTBEAT
Malnutrition, cruelty, and blazing heat were the unbearable realities of the South American prison. All that stood between newscaster M.J. Blake and the madness of despair was a stranger's voice.
As the days turned into weeks, the unseen reporter in the adjoining cell gave M.J. courage when she needed it, replaced her apathy with anger, and even made her laugh. They shared whispered memories, hopes, secrets, regrets…
Eighteen months after winning her freedom, M.J. was pretending that her life, her work, and her psyche weren't ravaged by a season in the darkest corner of hell. And then M.J. heard the voice…
Review:
One word: addictive. Voices in the Night by Linda Wisdom is a book that will suck you in from page one. I loved the connection that is built up between M.J. and Jake, AKA 1179. And when they meet again, you'd think coming face-to-face with the man who saved her life would be a wonderful occasion for M.J., but both characters feel as though it's more than they can take. You simply have to read this to find out how the two can make it past the bad memories.