Witchwood Estate - Going Home (Book 1) by Patti Roberts
There is something very evil lurking in the woods surrounding Witchwood Estate... Whimsical, "TV" length episodes in an ongoing series. Witches, spells, ghosts, sprites, shape-shifters, wolves and more... For all those young at heart... Equal measure of both Magic and Evil.
Alexandria Santorini learns as a child that she comes from a long line of Harvey witches. Now, as a teenager, Alexandria must say goodbye to Catnip Cottage and the Barnabys, her loving guardians for the last twelve years, and go home to Ferntree Falls to claim her inheritance. Witchwood Estate. The home where she was born and her parents were murdered. Her journey home becomes somewhat sinister, however, when she discovers that there are those who have other plans for her and her new friends…
Grab your broomstick/dustbuster out of the closet and come along for the ride!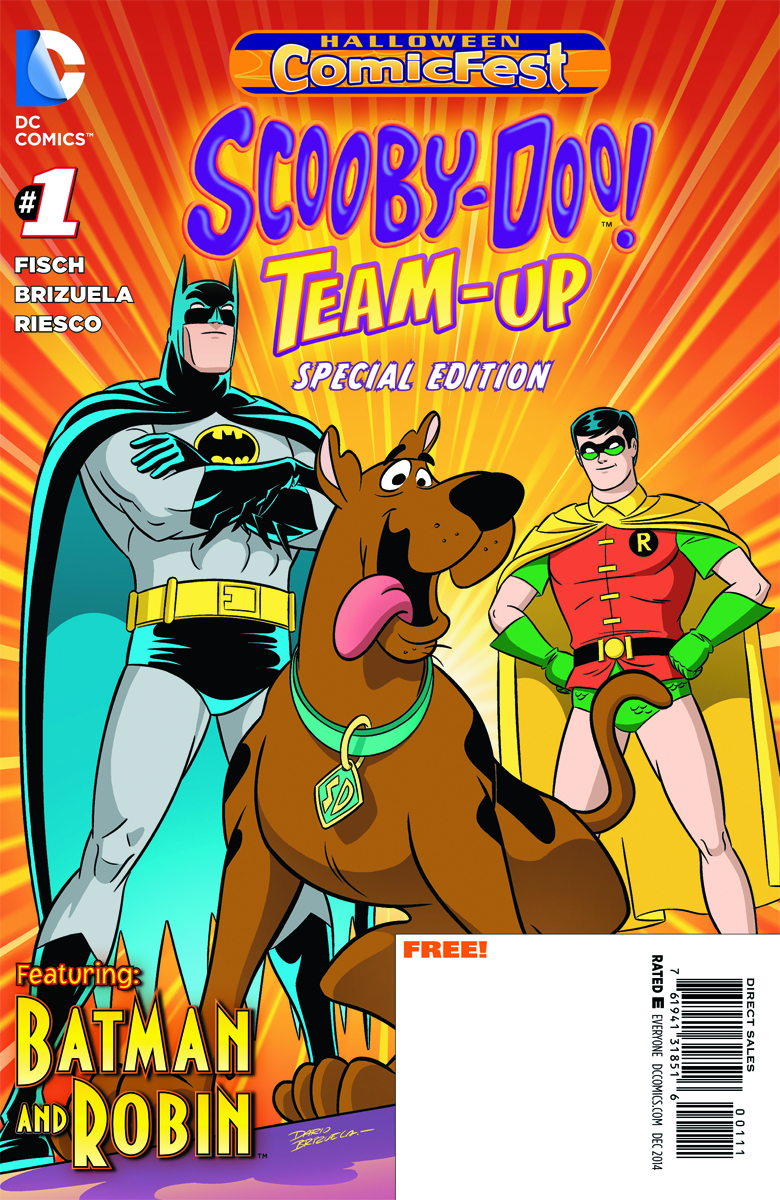 Halloween Comic Fest 2014 - Scooby-Doo Team Up #1 featuring Batman
Just in time for Halloween, fans of all ages can get this FREE special edition of the first issue of the fan-favorite, all-ages series that features teams-up with the Scooby-Doo gang and the greatest heroes of the DC Comics Universe! Rumors of a giant bat-creature bring Scooby and the gang on the run--but Batman and Robin are already on the trail of their old foe, the monstrous Man-Bat. Before long, the crooks behind a fake bat-creature will come face to face with the real thing… with the good guys caught in the middle!
Halloween Magic & Mayhem by Stella Wilkinson
(Regularly $0.99)
How on earth did I end up here? I was supposed to be at a party kissing the boy of my dreams, instead I'm dancing naked on the town common, on Halloween, with a Coven of strange women who might be witches, a bunch of zombies that I have to return to their graves, a talking crow, and my pet ghost thrown in for good measure. Just yesterday I was an ordinary teenager…
On her sixteenth birthday Emily Rand discovers that she is a witch. Unable to control her spells she unwittingly raises zombies, and corporealizes the ghost haunting her house. She finds herself in a race against time to put everything right if she has any hope of getting to a certain Halloween party and seeing a certain boy again.
Halloween Magic and Mayhem is a young-adult paranormal comedy romance. While Book One in the Magic & Mayhem series is short novella; Book Two, Werewolf Magic and Mayhem is a 50,000 word novel.