Paradox - The Angels Are Here by Patti Roberts
Two mysterious strangers arrive just in time to help Grace Connors as she struggles to cope with the death of her father. But are the intentions of these strangers as innocent as they first seem, or is something far more sinister on their agenda?
Meanwhile, in a faraway realm, a race of fallen Angels clash with a ruling house of Angels. Their battle changes events in the Ancient World and the New World forever. A realm where a year can last centuries and an ancient, magical people still rule... A realm where even the immortals face danger.
A story that will indeed leave you asking... Who, When, Where? WHAT!
My name is Juliette. Nine hundred years ago, I died. Today, I am alive... This is my story.
Winging It!: Confessions of an Angel in Training by Shel Delisle
She Just Wants to Fly.
Ever decided to do something that seemed like a good idea and in the second before there's no turning back think, I musta been totally mental when I came up with this? And, then, Oh, well, here goes.
That's how Angel inTraining Grace Lightbourne felt right before she asked the Big Kahuna to go straight to Earth on a mission as a Guardian Angel. The problem? She never was a great student and now she won't even finish her last three years of school. To make matters worse, Archangel Michael isn't happy about her special assignment, but Grace is convinced she's on a fast track to her wings. Besides, how hard can it be? She's working with humans, after all.
Winging It! is the first book in the Angel inTraining series, an irreverent and light-hearted take on Angels, Heaven and everything else that's divine.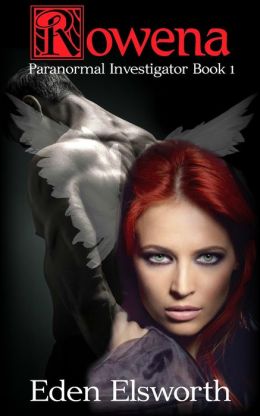 Rowena (Rowena, Paranormal Investigator) by Eden Elsworth
Rowena takes on a new case, but she could be about to find out more of her history than she wants to know.
Lumbered with a hot angel with designs on her womb, she has to find and nullify the spirit plaguing her new client, deal with revelations about who her father is, and shake off her addiction to her best friend with benefits, Stephen.
Can she do all that and still stay sane?