Scarlett and the Keepers of Light by Brandon Charles West and Miranda Ottewell
$0.99 or FREE for Prime Members
Scarlet Hopewell keeps dreaming about a magical world
, a world where winged creatures sculpt with light, where dogs talk, and where Scarlet is the guest of honor at a wonderful party in a castle under the roots of a mighty oak tree. One day her father brings home an abandoned puppy who captures Scarlet's heart. Dakota is fun and loving and smart. Actually, he's really smart—too smart. And a lot too big. News shows start to take an interest.
As the beginning of the school year approaches, strange and ominous storms have everyone on edge, and Scarlet's dreams are getting darker and more vivid. Her magical dream world has another side, a darker side with no interest in joyous parties. When the front door is blown off its hinges one night by three beautiful, silver-voiced men, Dakota leads the Hopewells in their escape—right into the world of Scarlet's dreams.
Scarlet and the Keepers of Light, the first in a four-book series, is a fantasy for all ages about the adventure of growing up and finding the magic within.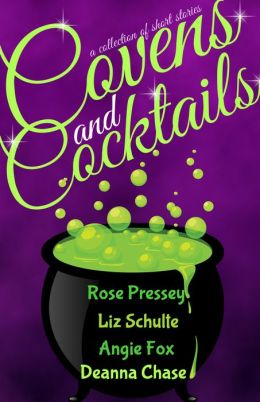 Covens and Cocktails
$0.99
Four wonderfully witchy adventures from your favorite paranormal authors.
Some Like It Hexed by Angie Fox
Ghosts in the Graveyard by Liz Schulte
Spirits of Bourbon Street by Deanna Chase
Charmed and Dangerous by Rose Pressey
Haunting Danielle by Bobbi Holmes and Anna J. McIntyre
$0.99 or FREE for Prime Members (Regularly $3.99)
When Danielle Boatman inherits Marlow House, she dreams of turning it into a seaside bed and breakfast. Since she's never visited the property, Danielle's not sure what awaits her in Oregon. She certainly doesn't expect to find one of the house's previous owners still in residence. After all, the man has been dead for almost ninety years—shouldn't he have moved on by now?
Charming Walt Marlow convinces Danielle the only way he can move on is if she solves the mystery of his death. Danielle soon discovers her real problems may come from the living—those who have their sights on Marlow House's other secrets.