Divorced, Desperate and Dangerous (Divorced and Desperate Book 4) by Christie Craig
$2.99
This novella originally appeared in the
New York Times
and
USA Today
bestselling romance anthology
Three Southern Beaches
.
Reese Morris has run away from home. She's left behind her adoring but overbearing grandmother, her broken heart . . . and most importantly, the no-good Texan jerk who broke it. She told him her secrets. He told her lies. He was nothing more than an undercover cop wanting one thing—and it wasn't her—he was out to bust her brother and his thug boss. How could she let him con her into feeling so damn much?
For two months, Detective Turner Calder hasn't been able to forget the betrayed look in Reese's eyes when she found out he'd deceived her. Now two witnesses from that case have been murdered, and he's traveling halfway across the country to protect her. If that means taking on her seventy-year-old grandma who has a black belt in Karate, a hired assassin—who scares him less than Granny—and the whole bat-shit crazy town of Hung, Georgia, he's up for the challenge. Because the biggest danger of all would be losing her.
Bonus Content:
At the end of the book, get a sneak peek at Christie Craig's newest book in the Divorced and Desperate series,
Divorced, Desperate and Dead
, coming in November!
And as an added bonus, you'll also get a look at the first chapter of
Reborn
, the first book in the YA paranormal series Shadow Falls: After Dark, that Christie is writing as C. C. Hunter!
Muffins And Mistletoe (A Starlight Hills Holiday Novella) by Debora Dennis
$0.99
SWEET HOLIDAY NOVELLA
Welcome to Starlight Hills! Mountain views, small town charm, and one little bake shop, where romance is always on the menu.
Christmas is the best time of year to be in love in Starlight Hills. Cold nights perfect for snuggling, plenty of mistletoe to be caught kissing under, and an abundance of gingerbread muffins for sharing under the stars. But when Corinne Mackenzie turns down a proposal from the man she loves at the Thanksgiving table, it could be the worst time of year instead. Convinced the only way to fix the biggest mistake of her life is to enlist the help of the town's resident matchmaker, she's got a plan to make this the best Christmas ever.
After his proposal is rejected in front of family and friends, Jimmy Crane knows his only chance of surviving the holiday is to avoid the woman who stomped on his heart. The only obstacle to his plan is his matchmaking mother and Corinne's knack for getting him under the mistletoe.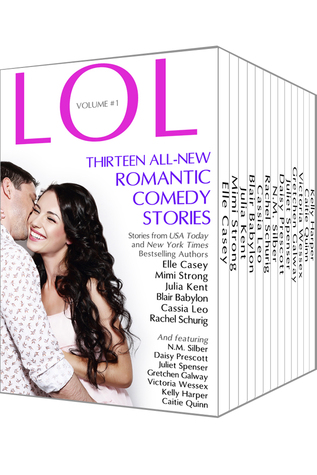 LOL Romantic Comedy Anthology
$0.99
Here's the very first issue of LOL, a NEW romantic comedy series!
Enjoy 13 brand-new stories from your favorite NYT Bestseller and USA Today Bestseller romantic comedy and romance authors, including:
The Return of Ursula, A Peaches Monroe Short Story by Mimi Strong
Peaches Monroe returns to Los Angeles a married woman. But there's trouble in paradise. Her new husband won't invite her to the film set of his vampire-drama TV series. Peaches doesn't take no for an answer.
The Real Deal by Elle Casey
When Melissa takes one last farewell tour of an internet dating site, and she sees a listing she can't ignore. She sends a quick note to the guy, congratulating him on his creativity. When he writes back, he makes her an that's ridiculous and impulsive, but what the heck … you only live once, right?
Handcuffed to the Stockbroker by Victoria Wessex
Curvy Wall Street protester Alice handcuffs herself to Mason, a "suit" who represents everything she hates. Forced to spend the day together, the friction between hot-headed Alice and cool, gorgeous Mason soon explodes.
EDIBLE: The Sex Tape by Cassia Leo
Max Milan was destined for a decadent future. Then he made one tiny—epic—sex tape and it all came crashing down. Now he's trying to get back on his feet, trying to secure a deal that will put him back in the spotlight. Then she turns up.
Can't Stop Wanting You by Gretchen Galway
Jody Lapinski is a plus-sized chemist with a problem. The despicable Simon Brogan has moved into the upstairs unit of her house. In high school, Simon was an arrogant, heartless jerk. She's not going to forgive him now just because he's gorgeous and successful. Not after what he did.
Legal-i-Tease, A Lawyers in Love Short Story by N.M. Silber
Adam and Lily Roth are on their way to a romantic honeymoon in Rio de Janeiro. When they arrive, the last thing they expect is to be treated like celebrities. Can the newlyweds survive their fifteen minutes of fame and finally consummate their marriage?
Kiss Me Again by Juliet Spenser
High school English teacher Rachel Chapman spends her free time writing naughty love stories just for fun. When her notebook falls into the hands of sexy, fun-loving Tyler Kalinger, Rachel will do anything to get her secret stories back.
An Extravagant Proposal (Billionaires in Disguise: Charley) by Blair Babylon
Charley Parkhurst has been in love with moneyed, gorgeous Ford Dalio for five long years. When Ford whisks her away for a weekend in Paris to crash a royal wedding, Charley thinks he might finally pop the question, but Ford has other plans.
On The Road, A Ransom Short Story by Rachel Schurig
Daisy and Daltrey finally have a shot at happiness. They just have to handle a national tour, the pressure of fame, Daltrey's bickering family, a few crazed fans, and the lingering demons of Daisy's past. Easy, right?
Christmas Shopping for a Billionaire by Julia Kent
When Shannon is called to the mall to work as a sexy elf, her billionaire boyfriend, Declan, gets roped into playing Santa. The mall mommies start tweeting pictures, and soon everyone is crashing the mall to have a seat on Santa's lap.
Love in Tune by Caitie Quinn
Melissa Foehner is a rock star babysitter whose star has just disappeared. Now nothing will stop her from getting the show back on the road… Not even a broad set of shoulders and a smart mouth.
Take Two by Daisy Prescott
Maggie Marrion and Gil Morrow got a second chance at love. They discover the second time around is better than the first, especially when it comes to sex. Or at least it can be, with the help of magical blue pills.
Surprised By You by Kelly Harper
It's a big day for tattooed rock star Haden Cooper. His girlfriend, Maggie, wants to bake him a cake. But everything goes wrong.