His First His Second by A. D. Davies
$0.99 (Regularly $2.99)
Meet Detective Sergeant Alicia Friend. She's nice. Too nice to be a police officer, if she's honest.
She is also one of the most respected criminal analysts in the country, and finds herself in a cold northern town assigned to Donald Murphy's team, investigating the kidnap-murders of two young women—both strikingly similar in appearance. Now a third has been taken, and they have less than a week to chip away the secrets of a high-society family, and uncover the killer's objective.
But Richard—the father of the latest victim—believes the police are not moving quickly enough, so launches a parallel investigation, utilising skills honed in a dark past that is about to catch up with him.
As Richard's secret actions hinder the police, Alicia remains in contact with him, and even starts to fall for his charms, forcing her into choices that will impact the rest of her life.
Gone Girl: A Novel by Gillian Flynn
$2.99
On a warm summer morning in North Carthage, Missouri, it is Nick and Amy Dunne's fifth wedding anniversary. Presents are being wrapped and reservations are being made when Nick's clever and beautiful wife disappears. Husband-of-the-Year Nick isn't doing himself any favors with cringe-worthy daydreams about the slope and shape of his wife's head, but passages from Amy's diary reveal the alpha-girl perfectionist could have put anyone dangerously on edge
.
Under mounting pressure from the police and the media—as well as Amy's fiercely doting parents—the town golden boy parades an endless series of lies, deceits, and inappropriate behavior. Nick is oddly evasive, and he's definitely bitter—but is he really a killer?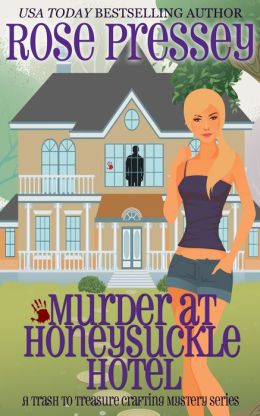 Murder at Honeysuckle Hotel (Trash-to-Treasure Crafting Mystery Book 1) by Rose Pressey
$0.99 (Regularly $3.99)
It's summertime in Honeysuckle, and everyone is lazing in the shade with a tall glass of lemonade. Everyone except Raelynn Pendleton. She's stuck working at the local store to make the rent while her no-good ex-husband lives it up with a floozy.
When she inherits a Victorian house, Raelynn jumps at the chance to turn her life around. How can she afford the upkeep on such a huge place? Simple. She'll run it as a hotel. Problem is, she has no experience and the décor dates back to the Dark Ages. She'll have to use her secret talent for turning junk into treasure or she'll never snag an overnight guest.
But before the new Honeysuckle Hotel even opens for business, Raelynn discovers the body of a young woman in the garden. As a newcomer in town, Raelynn is blamed for the murder. She's fired from her job, which could mean she'll lose the house. The only way to save Honeysuckle Hotel is to find the real killer - with or without the sexy Sheriff Kent Klein.
One way or another, Honeysuckle will be buzzing.