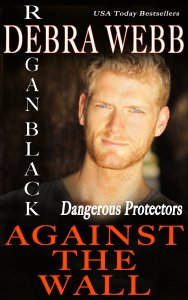 Against the Wall (Dangerous Protectors Book 1) by Debra Webb and Regan Black
$3.99
Jana Clayton's father is dead. She believes he was murdered, but no one is listening. Worse, she is certain someone is following her, but she isn't sure she can trust her instincts anymore. Desperate for help, she reaches out to a private investigations group know as the Guardian Agency.
Dylan Parker, the sexy cowboy who answers her call, isn't at all what Jana expected. Part of her wants to send this hot cowboy packing... but when bullets start flying, she knows she can't unravel the situation alone. Trusting her protector is her one chance to survive, no matter the risk to her heart.
When there is no one else to turn to and no one else to keep you safe, a Dangerous Protector is the man you want for the job.
Available December 16, 2014
Excerpt:
"Do you ever relax, Ms. Clayton?"
"I beg your pardon?"
"You should. Relax, I mean," he clarified, shifting closer as they started walking again. "You're wound tight. It's understandable under the circumstances, but if you take a step back, stop operating on emotion, you might see—"
"That's enough." She pushed her sunglasses to the top of her head. "My personal life isn't up for evaluation or debate."
Whoa. He'd hit a hot button there. "No, it isn't." He liked the way her soft green eyes turned sharp with temper. It showed him some conviction under all that sorrow. "I'd apologize for being blunt, but it goes with the job. You said you want to find the truth about your dad. Could it be you're ignoring the obvious answer?"
She stopped between a dress shop and a shoe store, and planted her hands on her hips. "That is not a suicide letter. It's a warning, not a farewell. If my dad had ever considered taking his own life, it would've been years ago when we lost my mother." She paused, gulping air. "He wouldn't have done this to me then, and he certainly didn't do it two weeks ago."
Get your copy of
Against the Wall
today and look for the next Dangerous Protector book,
Too Far Gone
coming January 22, 2015!
Live the adventure!
~Regan