Witchwood Estate - Going Home (bk 1) by Patti Roberts
There is something very evil lurking in the woods surrounding Witchwood Estate... Whimsical, "TV" length episodes in an ongoing series. Witches, spells, ghosts, sprites, shape-shifters, wolves and more... For all those young at heart... Equal measure of both Magic and Evil.
Alexandria Santorini learns as a child that she comes from a long line of Harvey witches. Now, as a teenager, Alexandria must say goodbye to Catnip Cottage and the Barnabys, her loving guardians for the last twelve years, and go home to Ferntree Falls to claim her inheritance. Witchwood Estate. The home where she was born and her parents were murdered. Her journey home becomes somewhat sinister, however, when she discovers that there are those who have other plans for her and her new friends…
Grab your broomstick/dustbuster out of the closet and come along for the ride!
Demon Street Blues (Wicked Good Witches Book 1) by Starla Silver
Regularly $0.99
Mature Read, for 18 plus, contains strong language and adult situations.
Wicked Good Witches- A Little Bit Funny, a Whole lot of Sexy, and Around-the-Clock Supernatural Trouble...
The Howard Witches, three siblings charged with protecting The Demon Isle...
Charlie, the werewolf.
Michael, the empathic death reader.
Melinda, living under self-inflicted house arrest. Her gift: prophetic dreams of people about to die.
Their mentor, the four-hundred year old Vampire, William Wakefield. Charming, ridiculously handsome, and walking a dangerous line between sinking into darkness and living in the light. In constant temptation to declare his love for the one woman that could be his undoing.
The story begins with an unsolved murder. One that will change everything...
Come stalk the streets of The Demon Isle... you'll go up against witches, vampires, werewolves, demons, guardians, shapeshifters, ghosts, ghasts, mermaids, faeries and a host of other devious supernatural creatures waiting to wreak havoc on The Demon Isle. Where fans of the paranormal come to vacation and immerse themselves in fantasy. Where magic comes to life, mysteries abound, and you might just find yourself laughing, crying, and most definitely, falling in love.
In Book One:
Melinda Howard is the Demon Isle's weird girl... the one that's been holed up in the Howard Mansion for the last four years. Why? No one knows the truth except her family... a long line of witches charged with protecting the Demon Isle, along with their mentor, the four-hundred year old Vampire, William Wakefield.
Another reason Melinda doesn't mind her self-inflicted imprisonment. She gets to spend her days with the charming vampire, who also happens to be her best friend. Only now, she's spending her night's with him too. He just doesn't know it...
Any other girl would enjoy the nightly thrill of a sexy vampire invading her dreams. But not Melinda as her dreams have a tendency to come true. Although typically, they don't include the handsome vampire she's crushing on, but rather horrifying visions of people about to die.
But she cannot stay under self-inflicted house arrest forever. And if her brothers or William get their choice in the matter, Melinda will be out of the house partying with her friends, giving her affections to a human, not a vampire, and digging into her role as a witch.
A role her eldest brother Charlie lives for and a role her second brother Michael would rather live without. Nevertheless, when duty calls, usually from the local sheriff needing help with some tourist who's gotten themselves into trouble, life screeches to a stop, and duty takes over.
Such is the case when the sheriff needs help with a four-year-old murder investigation; one she fears has a supernatural cause. To assist her in the case, she calls upon the skills of The Howard Witches.
However, what they learn might be more than any of them can deal with, or accept. Worse yet, they fear what this discovery will do to Melinda, as it returns them all to the core of her self-imprisonment.
Back to the lives, she could not save...
Wicked Good Witches, Season One...
Book 1: Demon Street Blues
Book 2: Alpha Knows Best
Book 3: Bye Bye Bloodsucker
Book 4: Ghast Me Gently
Book 5: A Nightmare to Remember
Book 6: A Stake With a View
Book 7: Bite Me, Baby!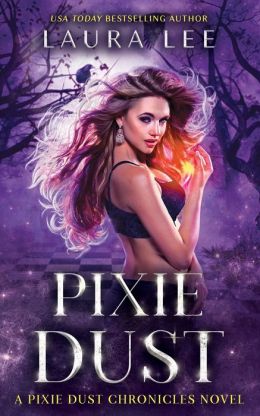 Pixie Dust, A Paranormal Romance (The Karli Lane Series Book 1)
Regularly $2.99
*A lonesome fairy with no clue how to wield her powerful magic.
*A ruggedly handsome warlock torn between his past and his present.
*A five hundred year old, sinfully sexy vampire who's obsessed with solving the mystery of a particularly interesting bartender.
Karli Lane is the only fairy left on the planet. Vampires had driven her race to near extinction, causing the others to return to their homeland over twenty years ago. Orphaned at a young age, she was forced to hide her identity in a world full of exposed supernaturals.
Facing her upcoming immortality, her life has become a complicated mess. A new employer and a gruesome murder bring two incredibly complex men into her life, making matters worse. She finds herself riding a non-stop emotional roller coaster while trying to figure out who she is, how to control her powers, and most importantly, how to stay alive.