To Live Again (Learning To Live Again 1) by Dori Lavelle
$0.99
*$0.99 for a limited time.*
After losing the future that was promised to her, Kelsey O'Neil says goodbye to her old life and sets out on a journey to capture her own independence, find happiness, and maybe even true love.
A cozy cottage in a quaint Irish town seems the perfect place to start again. And Shaun Brannon, the sexy but mysterious author next door, could be her second chance at love. But Shaun is incapable of opening his heart to any woman. Can Kelsey find out why before she falls too hard?
Eight years ago, Shaun Brannon stopped believing in love, or marriage. His only belief now is in lust. The demons he wrestles with daily are too dark to let him get close to a woman without breaking her heart. Then along comes Kelsey, who makes him wonder how it might feel to give love another chance. Is he brave enough to show her his deepest scars?
This serial unfolds over three volumes of approx. 30,000 words each.

*This is a new edition of a book originally published under the title Chocolate Aftertaste.
Learning to Live Again series reading order:
To Live Again (Learning to live again 1):AVAILABLE
To Love Again (Learning to live again 2): Coming January, 2015
To Breathe Again (Learning to live again 3): Coming February, 2015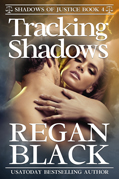 Tracking Shadows (Shadows of Justice Book 4) by Regan Black
$0.99 or FREE for Prime Members (Regularly $3.99)
***2011 Paranormal Romance Guild Reviewer's Choice Award winner!***
Tracking Shadows is book 4 in the Shadows of Justice series and now includes the BONUS short story, A Gala Extraction:
"Tracking Shadows is a smart, sexy, and dangerous read that you won't be able to put down!" -- Crystal <3
~~
When your past becomes your future you'll find yourself Tracking Shadows:
In Chicago, Slick Micky is the king of smuggling. Known to deliver anything, anytime, anywhere, he specializes in caffeine and sugar and works in the anonymity of shadows. But recently an old enemy is tired of waiting for Micky's empire to crumble and has called in the best assassin in the business to take him out.
Trina Durham is an assassin with a sterling reputation, thanks to her unique ability to induce deadly hallucinations. When Slick Micky killed her best friend, she left Chicago - forever. She's back now, unable to resist the perfect opportunity for vengeance. But no one warned her Slick Micky might as well be a shadow. Or that shedding light on the man and his secrets would put both her heart and reputation at risk.
Skip to the Good Part 2: 20 Authors Reveal Their Steamiest Scenes
$0.99
Volume Two offers even more great reads
Skip to the Good Part 2: 20 Authors Reveal Their Steamiest Scenes
offers face-fanning romance and tie-me-up sizzle (and everything in between) from top authors including
New York Times
and
USA Today
bestsellers.
The collection features a bride purchased by a powerful man who has sexy plans of her own, a UFC fighter who falls in lust with the sister of his biggest rival, a woman who gets naughty with her ex hoping she can keep it a one-time thing, a biker charged with protecting a woman he desires from the wrath of a rival gang, and a woman held in a captor's dungeon who finds that only part of her wants to be freed.
Read 20 of the best steamy scenes in contemporary romance and erotic romance today. This 250-page collection will get your blood pumping, your heart racing, and your skin tingling—you're sure to discover a new favorite.
Due to the graphic nature of some content, this collection is recommended strictly for mature readers.
New York Times bestsellers:
Pepper Winters
Cristin Harber
Aleatha Romig
L.P. Dover
Zoe York
USA Today bestsellers:
Carmen Jenner
J.L. Berg
Featuring:
Kendall Grey
Chelsea Camaron
Amity Cross
Elisabeth Grace
Geneva Lee
Tia Louise
Kimberly Knight
Lisa Swallow
Elizabeth Otto
Zinnia Bennett
Juliana Haygert
Claudia Bradshaw
Delancey Stewart
Finding Home (Montana Born Homecoming Book 2) by Roxanne Snopek
$2.99 or FREE for Prime Members
Fourteen years after her abrupt departure, Samara Davis is back in Marietta, Montana. Now a widow, all she wants is to give her anxious four-year old daughter, Jade, a happy, stable home. Unfortunately, the heritage house she purchased is nowhere near ready for occupancy. And the man responsible for the delay is none other than high-school golden boy and love of her life Logan Stafford, available, interested and just as swoon-worthy as ever.
But this single mother has one priority. She's all Jade has, and she'll do anything, make any sacrifice, for her child's future. And getting distracted by a long-lost boyfriend is not on the agenda.
Logan Stafford never forgot the lonely girl from the wrong side of the tracks who broke his heart. Not only is she as irresistible as ever, but her delightfully odd little girl has him wrapped around her finger in no time. Believing they've been given a second chance, Logan's determined to pull out all the stops on the house to prove to them both that he's a guy they can count on.
But, despite how easy it is to love Logan, second chance is still a gamble Samara can't afford to take.
Montana Born Homecoming Series
Book 1: Sing Me Back Home by Eve Gaddy
Book 2: Finding Home by Roxanne Snopek