Crossroads Serenade: A Novel by Laurie Adair Grove
$0.99 or FREE for Prime Members (Regularly $3.15)
Five years after tragedy forces Meredith to move to Oregon, a dear friend passes away and leaves his business back home—a restaurant, bar and hotel called The Serenade—to her in his will. Meredith isn't sure she should go home. For one thing, she doesn't want to fail in the business her friend spent decades building up. For another thing, she's still afraid of her abusive former stepfather, Raymond, and she has no idea where or when he might show up or what he might do. But she hopes she will run into Pete—who broke off their engagement over circumstances neither of them could control. Ultimately, she goes home with her five-year-old son, Grant. Little does she know of the terrible ordeals that lie in her path—and that the only reason she will survive is due to her circle of steadfast friends.
The Pink Victorian by Laurie Adair Grove
$0.99 or FREE for Prime Members (Regularly $3.15)
In this sequel to Crossroads Serenade, an unwelcome character from Pete's past shows up for a show-down, which could either drive a permanent wedge into his relationship with Meredith, or cement it in place so they can build their future together—a future that would include their son Grant, whom Meredith and Pete hope will remain happy and well-adjusted, even after they saddle him with a reality no child should ever have to deal with.
Former Serenade employee Ralph has returned to Crossroads and now works at the McBride ranch. A bad experience has left him afraid to love again until he meets Helene and her spirited little girl, Arlee, who are on the run from Arlee's father. When the gas gauge of their car lands on empty, Helene and Arlee land in Crossroads and change a lot of lives, including their own.
Mona, The Serenade's flirty fifty-something head waitress who took Meredith under her wing and taught her "Waitressing 101", is finding retirement so boring it's 'killing' her! Replaced by JoLynn as the head waitress, Mona appears to be stuck in a lifestyle that is so not Mona!
Finally, Jenny's dream of a charity to serve the underprivileged children of the area has come to fruition. Over time, the truth takes hold in Meredith's heart—that the good the charity does for the children far outweighs some bitter memories she has of having grown up there—in The Pink Victorian.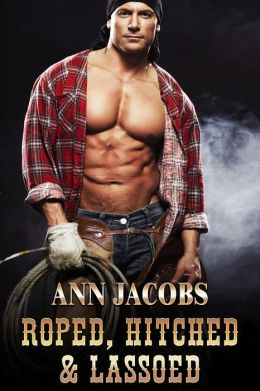 Roped, Hitched & Lassoed by Ann Jacobs
$2.99
Three siblings, all deeply entrenched in the BDSM lifestyle...
Jared, wounded warrior who completes his healing as he heals his widowed slave
Brad, roughshod rodeo cowboy who finally finds he wants more than just a partner in club play
Diana, who raised her younger brothers and survived a sadistic master's cruelty, who finds her happily ever after with her vanilla first love.
Three couples, three interwoven stories of Dominance and submission—but mostly of forever love against a backdrop of the majestic hills of southwestern Wyoming.
Phobia by Mandy White
$0.99
Trapped in the sanctuary of her own home… afraid to leave but too terrified to stay. Dana's many phobias have driven her to a reclusive lifestyle. Her home is the only place she feels truly safe. When the objects of her fears begin to invade her home, she needs to escape, but the only place to go is out, where terrifying things lie in wait.
Through the internet – her only link to the outside world – Dana meets Colin. She finds herself attracted to her online friend, whose soothing presence helps her cling to sanity. She dreams of meeting him in person, but can't find the courage to venture beyond her front door.
Christmas Crazy (Zoe Donovan Mystery Book 3) by Kathi Daley
$0.99 or FREE for Prime Members (Regularly $2.99)
Every year between the dates of December 1 and December 24, a strange and wonderful insanity hits Ashton Falls. Most refer to this phenomenon as Christmas Spirit, but Zoe has been around long enough to know that spirit usually translates to insanity, which brings on a phenomenon she likes to refer to as Christmas Crazy. After Hometown Christmas is threatened when Santa is killed four days prior to the annual event, Zoe is pulled into a murder investigation with more twists and turns then the narrow road leading to the valley below.