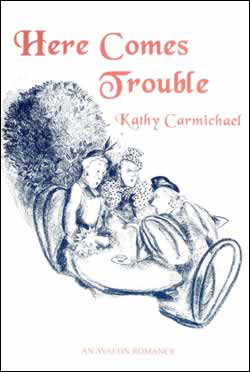 Here Comes Trouble by Kathy Carmichael
$0.99 or FREE for Prime Members (Regularly $2.99)
In the town of Littlemouth, being naughty was never so much fun.
Trouble was never so delightful!
Five incorrigible women are members of a library reader's group, The Readers Organization Uniting Book-loving Littlemouth Elites. Their nickname, TROUBLE, fits them perfectly.
There's no avoiding TROUBLE. They run every volunteer and civic organization in town and feel justified in creating chaos in pursuit of their own amusement.
The ladies now turn their hands to matchmaking. Their first project is centered on homebody Stella Goody, and wanderer Quin Gregory, who were best childhood friends. Now that Quin has returned home after a long absence, can they rebuild their friendship or will it turn into something more lasting--and romantic?
With TROUBLE involved, all's fair in love and Littlemouth!
Mind Reader by Vicki Hinze
$0.99
SHE KNOWS A CHILD'S LIFE IS IN DANGER BUT NO ONE BELIEVES HER.
HE KNOWS SHE'S A FRAUD AND IS OUT TO PROVE IT.
THEY SEEK THE TRUTH AND DISCOVER THE TRUTH CAN SET YOU FREE . . . OR KILL YOU
Caron Chalmers is an empath. A mind reader cursed with imaging only victims. She sees what they see, feels what they feel, endures what they endure and has since she was seven. But even with all the sensory perception and insights, sometimes she fails to save victims in time. Sometimes she interprets the signs wrong—and a year ago, she did exactly that. She messed up and a victim died. Caron nearly died with her. Her "gift" shut down.
Now it's back. There's another victim—this time a child—and because of the mistake made last year and the shut-down, her police contact, though aware of her many successes, isn't willing to stake his career on her. Yet he can't dismiss her and calls in help from a private investigator, Parker Simms: a man with a past as bleak as Caron's and a specific agenda of his own: proving Caron Chalmers is the fraud he believes her to be.
In a hostile alliance, Caron and Parker seek the truth . . . and discover a labrynth of lies and deceptions that require skills and experience they have and trust they don't but must somehow find before the child becomes another victim lost. Yet trust never comes without costs, and some are too steep to pay.
The situation grows desperate. Time for the child's survival grows short . . . and for Caron and Parker, who must live with the consequences of missteps and wrong moves, the unthinkable happens: Stakes that couldn't get any higher soar.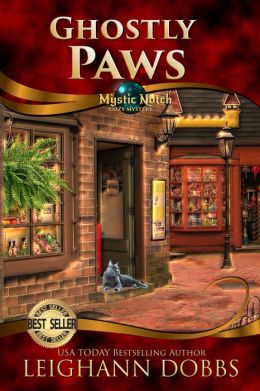 Ghostly Paws by Leighann Dobbs
$0.99
Middle age can be murder ...

At least that's how it seems to former crime journalist, Wilhelmina Chance, whose near-fatal accident has given her a strange side effect ... she sees ghosts.
After a messy divorce sends her fleeing back to her hometown of Mystic Notch, nestled in the White Mountains of New Hampshire, Willa finds herself haunted by the tenacious ghost of the town librarian who insists Willa solve her murder.
Luckily, she has lots of help, including a quirky cast of small-town characters, the cat she's inherited from her grandmother, and her best friend, Pepper, who claims her herbal teas can work magic.
But just when Willa thinks she's discovered who the killer is, she finds out that things are not what they seem in Mystic Notch, and the case takes a strange turn that has Willa adding even some of her long-time friends to her suspect list.
Can Willa find the real killer in time to keep the magical balance in Mystic Notch on the side of good, or will evil prevail?