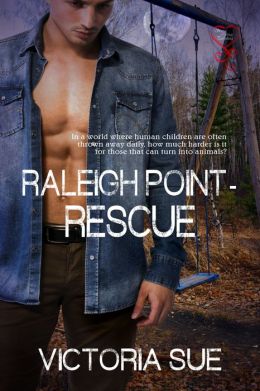 Title:
Raleigh Point - Rescue
Author: Victoria Sue
Genre: Erotic Paranormal Romance
Pages: 167
Price: $4.99
Thoughts: Unique and sexy!
Book Synopsis:
Lisa was wicked.
Wicked and damaged. She's spent half her twenty years locked away in a psychiatric facility because her uncontrollable alpha rages are inexplicable in a human world. Orphaned when she was a baby, she doesn't even know what she is. All she knows is what they've always told her.
Wicked.
Mac helps his family run Raleigh Point, a group foster home for abused or abandoned shifter babies and children. Beyond taking on an occasional tracking job for the FBI, he never worries about much. He likes to play hard, usually with an attractive woman. Never too much responsibility. Life is good.
When Mac rescues Lisa from that grimy god-forsaken excuse for a hospital, he realizes life has to change. Lisa, drugged and damaged, is his mate.
With Lisa's problems only just beginning, can Mac also rescue her from a crazed rogue alpha intent on making her his queen?
Review:
WOW! What a unique, sexy, and enjoyable read. As someone that loves paranormal romance, I thought all the unique storylines had been done, but boy was I wrong! Raleigh Point - Rescue is unlike anything I've ever read. If you love Para Rom, grab this book!