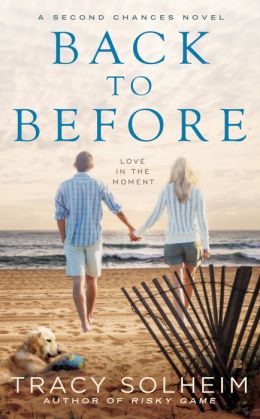 Title:
Back to Before
Series: Second Chances
Author: Tracy Solheim
Genre: Contemporary Romance
Pages: 320
Price: $5.99
Thoughts: A great read!
Book Synopsis:Chances Inlet, North Carolina, has an infamous power for second chances. But its charms are lost on the town's favorite son—until she comes along…
When his father's sudden death puts his family's construction business in serious debt, architect Gavin McAlister is forced to put his dream career in New York on hold. Making matters worse, his fiancée calls it quits. Desperate to return to his big-city life, he discovers an opportunity to save his family, one that has him reluctantly starring in a home restoration TV show.
Former soap star Ginger Walsh hopes this job as a TV makeup artist will lead to better things. So far it's only brought her to a hamlet full of people who don't like her—except Gavin. After a wild night out leads to Ginger waking up in Gavin's loft—and the rest of town talking—the two of them soon wonder if getting back to before is what they want. Because being in each other's arms certainly feels like what they need…
Review:
I loved the storyline of two people stuck doing something they really don't want to do so that they can get back to the lives they once knew and then finding each other. The book is filled with well-developed characters and great romance, making it a book you'll find impossible to put down.