Witchwood Estate - Going Home (bk 1) by Patti Roberts
There is something very evil lurking in the woods surrounding Witchwood Estate... Whimsical, "TV" length episodes in an ongoing series. Witches, spells, ghosts, sprites, shape-shifters, wolves and more... For all those young at heart... Equal measure of both Magic and Evil.
Alexandria Santorini learns as a child that she comes from a long line of Harvey witches. Now, as a teenager, Alexandria must say goodbye to Catnip Cottage and the Barnabys, her loving guardians for the last twelve years, and go home to Ferntree Falls to claim her inheritance. Witchwood Estate. The home where she was born and her parents were murdered. Her journey home becomes somewhat sinister, however, when she discovers that there are those who have other plans for her and her new friends…
Grab your broomstick/dustbuster out of the closet and come along for the ride!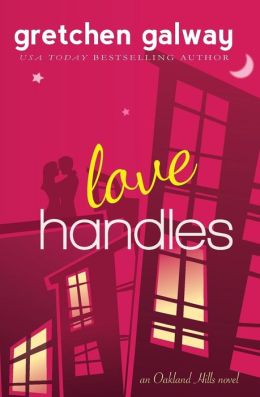 Love Handle by Gretchen Galway
Regularly $3.99
The world of fitness apparel isn't ready for Beverly Lewis. She hates the gym, is nice to everybody, and shops at Ross Dress for Less. When she's not teaching preschool, she's wearing yoga pants . . . to nap in. So when she inherits her estranged grandfather's fitnesswear company in San Francisco, nobody expects her to keep it. Fite Fitness needs a heartless suit to save it from bankruptcy, not a thirty-year-old woman who cries when her students leave for kindergarten.
Someone like Liam Johnson. A former Olympic swimmer, Liam is Fite's executive vice president. Unlike Bev, he's devoted his life to Fite's success. Managing one little preschool teacher—and his attraction to her—shouldn't be an issue. Right?
But Bev's tired of being underpaid and underrated, and refuses to step aside as an obedient figurehead. To everyone's shock and horror, she moves up to San Francisco, sets up an office, and dives into the business. Nothing—not mockery, not exercise, not sabotage, not a disastrously hot night with her aggravating VP—is going to scare her away.
As Liam realizes she's tougher than she looks, he discovers that losing Fite might not be nearly as bad as losing her . . .
A story about the pursuit of love, happiness, and the perfect yoga pants, Love Handles will speak to anyone who's ever had to face what scares her most.
Warning: contains at least two loves scenes and a happy ending.
Snowmen In Paradise (Tj Jensen Paradise Lake Mysteries Book 2) by Kathi Daley
Regularly $2.99
Winter Carnival comes to Serenity and with it Tj finds her schedule busier than ever. Not only is her ski and snowboard team heavily involved in demonstrations and local competitions, but her rag tag choir is about to debut in their first live performance. To make matters even more complicated Maude and Mille are in town for their wedding to Abe and Andy, and someone has killed Travis Davidson, a favorite town son, world-class snowboarder, and Olympic hopeful. Tj is determined not to get involved in the subsequent investigation until she finds out that the prime suspect in his murder is Chelsea Hanson, high school boyfriend Hunter Hanson's sister. Although there is no shortage of Sereninites with a grudge against the hometown hero, even Tj has to admit that there is good cause to suspect Chelsea of the murder. Everyone saw Chelsea and Travis arguing just an hour prior to the discovery of his bloodied body. Everyone saw Chelsea storm off in the same direction in which Travis left the scene of the argument. The murder weapon turns out to be Chelsea's ice axe, the same one she'd used just that afternoon for the ice climbing competition. To make matters worse Chelsea has no alibi for the time of Travis' death. In spite of the fact that everything points to Chelsea Tj knows she couldn't have done it. Balancing bridesmaid duties, Winter Carnival obligations, and show choir duty, with after-hours investigation, Tj sets out to prove Sheriff Boggs wrong.