The Tycoon's Bride by Megan Crane
$0.99 or FREE for Prime Members (Regularly $2.99 or FREE for Prime Members)
Emmy Mathis is sure of three things:
1. Her sister Margery's three-week wedding extravaganza at their grandmother's Marietta, Montana home will be over-the-top ridiculous.
2. She'd much prefer to stay home in Atlanta in a pair of sweats.
3. And she absolutely, positively, won't feel even a hint of a spark for Griffin Hyatt, grandson of her beloved grandmother's best friend and the architect of the most embarrassing night of her life ten years ago.
But Emmy is dead wrong about number three. The moment she and Griffin lock eyes again, the passion that's always smoldered between them flames. And they aren't kids any more, so why should they deny the desire that sears through them both?
Is this no more than a wedding fling between two people with too much chemistry and an overload of history, or can Emmy try to build a new life from the ashes of their past? And if Griffin is truly really free of his fiance, why is he a finalist in the town's Wedding Giveaway? Emmy can't answer those questions, but she does know that Griffin has the power to burn her like no one else.
Still, how can Emmy walk away from the one man she's always loved now that she knows what she's been missing?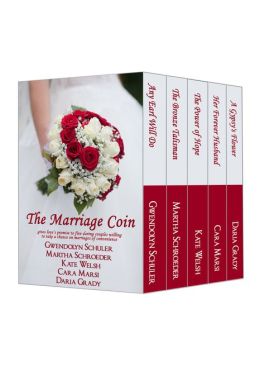 The Marriage Coin (Boxed Set)
$0.99
"Flowers make the perfume of love stronger."
A mysterious coin is passed down through the centuries to those deserving of Luck and Love. Five couples in different eras each come into possession of the coin and enter into a marriage-of-convenience. Will the coin lead them to love as well as luck?
Five original novelettes by three award-winning authors and two talented debut authors.
Violet-Any Earl Will Do by Gwendolyn Schuler
Lilly-The Bronze Talisman by Martha Schroeder
Rose-The Power of Hope by Kate Welsh
Poppy-Her Forever Husband by Cara Marsi
Dahlia-A Gypsy's Flower by Daria Grady
Risky Brides
$0.99
Looking for your next must-read author? You'll find him or her in this limited-time-only collection. USA Today Bestsellers, (Vicki Hinze, Rita Herron, Donna Fletcher, Peggy Webb, Kathy Carmichael) veteran authors, (Kimberly Llewellyn and Tara Randel) and dynamic newcomers, (Bayard & Holmes)—all share their unique take on what it means to be a risky bride.
THE STORIES
Vicki Hinze
The Marked Bride
Romantic Thriller Novel
Nine months after breaking their engagement, Mandy sends Tim, a private security consultant and former Shadow Watcher (spies who spy on spies), an SOS. She's in trouble. NINA caused the breakup and, though Mandy and Tim have been apart, NINA has struck—targeting Mandy.
Rita Herron
There Goes the Groom
Romantic Suspense Novel
A jilted bride is arrested for her fiancé's crimes when he goes on the lam!
Donna Fletcher
The Irish Devil
Historical Romance Novel
The infamous warrior the Irish Devil was promised a bride by the King of Ireland for services rendered. Faith is as kind as she is beautiful and wants no part of marrying the fierce warrior, but has no choice, and once wed she discovers just how sinful the devil is.
Peggy Webb
Elvis and the Buried Brides
Quick-Read Cozy Mystery
Bad boy Jack Jones is finally retying the marital knot! But where is the bride? When Callie and cousin Lovie both go missing, everybody is crying in the chapel. Can canine sleuth Elvis and the Valentine gang find them in time to croon "Love Me Tender" at the wedding?
Kathy Carmichael
Something Borrowed, Something Deadly
Quick-Read Mystery
When the groom is found murdered hours before the wedding, can bridesmaid and owner of the Skullduggery Inn, Ashley Sands, clear the bride from imminent arrest? With numerous suspects, all with strong motives, Ash must figure out who-dun-it before the murderer strikes again.
Tara Randel
Love at the Sweetheart Inn
Sweet Romance Novel
Wedding planner Kara Delaney has had her heart broken too many times to expect a wedding of her own. Lucas Winfield can't promise forever to any woman. As they work together on a wedding, the attraction is undeniable, but can they overcome their pasts to have a future together?
Kimberly Llewellyn
Almost a Bride
Sexy Romance Novel
After getting dumped at the altar, Ivy Hammond enters a sexy research study with one rule: don't fall in love. But with each sizzling assignment, her hot research partner, Kip Lockehart, convinces her some rules were made to be broken.
Bayard & Holmes
The Spy Bride
Quick-Read Thriller
With her wedding only days away, a CIA operative and her mother must thwart a top-level traitor before he delivers computer technology to international crime cartels, allowing them to hack US security systems and target thousands of innocents for slaughter.