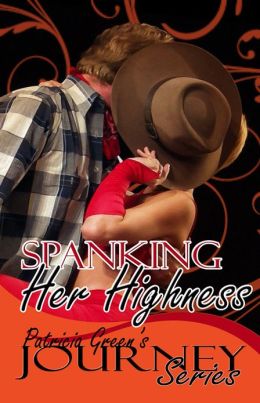 Title:
Spanking Her Highness
Series: The Journey Series Book 3
Author: Patricia Green
Genre: Spanking Romance
Pages: 105
Price: $3.95
Thoughts: Hot!
Book Synopsis:
It's another Journey Family story, with all the warm fannies that entails.
Queenie Journey has a trust problem. Her ex-husband left a bad taste in her mouth, and now she's afraid of making emotional attachments to a man. Even a man like her neighbor, the handsome Will Mazie. She's determined to keep him at arm's length.
Will spent many years as a screenwriter in Hollywood, and yet always yearned to be a rancher. He chose Texas because of its friendly residents. Except for his new neighbor, Queenie, who seems to have a big chip on her shoulder where he's concerned.
Getting her rump tanned by Will helps Queenie find her manners, and Will soon falls for the feisty blonde. Circumstances keep getting in the way, and yet they can't keep themselves away from each other. Maybe they aren't meant to.
NOTE: This book contains adult disciplinary spankings. If such a theme might possibly offend you, please do not purchase this book.
Review:
Another sexy addition to the series. Patricia Green knows how to make you hot under the collar in a very, very good way. If you love a good spanking, or several, I highly recommend this book and this series.