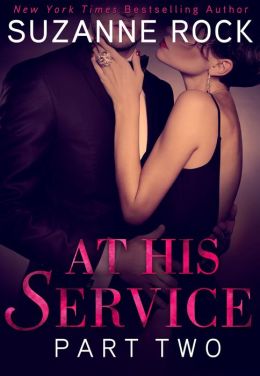 Title: At His Service: Part 2
Author: Suzanne Rock
Genre: Erotic Romance
Pages: 100
Price: $1.99
Thoughts: Sexy and fun!
Buy Links:
Amazon
Barnes and Noble
Book Synopsis:
The next installment in an exclusive and red hot mini-series from New York Times bestselling author Suzanne Rock.
Leo Perconti's life is spinning out of control. As head of his family's hotel conglomerate, it's his job to save his family from bankruptcy. At the center of his turmoil is Karin Norell, a quiet, alluring housekeeping manager who compliments his dominating personality and lets him feel in control once more.
As Karin explores her passion her feelings for Leo deepen. Unfortunately, Karin and Leo come from different worlds, and when the two worlds collide, the cost can be devastating. As the service staff at The Palazzo rise up against the Perconti family, both Leo and Karin are faced with losing what each of them holds most dear. Together they must learn that true power comes from vulnerability and trust that can only happen when you let your insecurities go.
Review:
She wants to forget it ever happened, but he wants to pick up where they left off and has promised that he will get his way. If you enjoyed Part 1, you're going to love Part 2. At His Service is a sexy, fun series that is a must for those that love the dom/sub genre.