Kings of Delusion by E.J. Findorff
(Regularly $4.99 or FREE for Prime Members)
In the days before, during, and after the flooding of Hurricane Katrina in New Orleans there was a serial killer on the loose and looking for a certain female that got away. Paramedic Evan Pelicano's true accounts of the storm are weaved into this tale of survival while saddled with the sixteen year old daughter of his slain friend Officer Jeremy Scarlet. At first, the paramedics and police officers navigate the floodwater trying to save residents, but then Evan finds he needs to save himself as well as protect his friend's daughter from the killer among them, all the while determined to reunite with his girlfriend, the Chief Deputy Coroner of New Orleans.
T. S. Livingston and the Mystery at Madame Molineaux's
(Regularly $4.99 or FREE for Prime Members)
Twin sisters Maddie and Jo Livingston have spent their lives traveling the world with their famous archaeologist parents. But when the Livingstons' work takes them on a mysterious year-long excavation in Siberia, much too dangerous for two twelve-year-old girls, Maddie and Jo are whisked off to a castle in Switzerland, where they find themselves piecing together a mystery of their own.
Madame Molineaux's School for Girls is filled with interesting students and professors from all over Europe. But it doesn't take long for the girls to figure out that this is no ordinary boarding school: bizarre animals, hidden tapestries, secret tunnels, and a long list of unanswered questions keep Maddie, Jo, and their new friends searching for clues around every corner. Where is that snotty Mary Spivey going when she sneaks out of her dormitory at night? What secret is their beloved headmistress is trying to protect? Who is concealing treasures in the unlikeliest of hiding places? The girls must put all these strange pieces together to discover the staggering truth—and to save their school before Madame Molineaux's closes its doors—for good!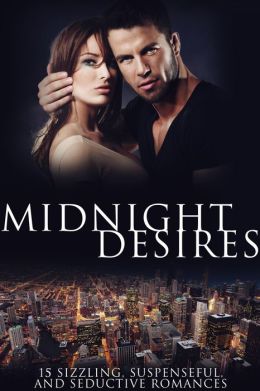 Midnight Desires: 13 Sizzling, Suspenseful, and Seductive Romances
(Regularly $0.99)
Edge of the Heat 1, by Lisa Ladew
Emma Hill has a vision of her future husband, but her ex-husband, a dirty cop in the city where she works as a paramedic, is determined to keep her to himself.
TRUST ME NOT, Part One, BY C. J. BERRY
When young MBA hotshot Mika Horden is recruited for her first big trading job at Dawson & Memorial she finds herself living the perfect fairy tale. That is, until two "FBI agents" corner her into betraying those closest to her all in order to keep secret her dark past from the one she cares most about - her boss.
Marked by Desire, Book 1, by Jamie Garrett
Can US Marshal Luke Blake keep murder witness Hannah Mitchell hidden, keep her safe? Luke knows what happens when you make a case personal, but Hannah might just be worth the risk. But to stop a killer and keep her safe, will Luke put himself in the line of fire instead?
Pure Temptation, Tempted 1, By Eve Carter
A financially struggling college student stumbles upon just a briefcase containing $250,000 in a sleazy hotel room in Manhattan and she can't resist the temptation.
She takes the money but soon discovers that it is connected to a deadly underground street-fighting cartel. Fearing her life is in danger, she jumps on a bus and heads south, ending up in a cozy beach town where she meets a handsome twenty-four year old Harley rider, who has his own secrets to battle.
Dwell in Possibility, Worcester Nights, Book One, by Ophelia Sikes
Kate's life sucks. She's tending bar at a run-down dive. Her immoral boss fondles every co-ed within reach. The clientele is made up of TV-glazed zombies, drunkards, and ... who is that in the corner? The Thunderbolt Hits.
Passion - 1, by P.A. Jones
A chance meeting between Emma White, a wanna-be actress, and Gavin Phillips, Private Detective and secret Billionaire, leads to an instant and undeniable attraction. But Emma's past throws her life in a different direction.
Dreams Claimed, Warfield's Landing – Book 1, by Adeara Allyne
Rising artist Nic Bannerman isn't looking for love. When she meets Daniel -- he has dimples — call her shallow, but she's willing to take a chance.
All too soon, outside events overtake them… her birth father's bad choices, the frightening phone calls she's been getting… and other unexpected complications.
High Stakes SEDUCTION, Book 1, by Ami LeCoeur
Antonio Mancini is rich, secretive and gorgeous. When unexpected circumstances cause Angela to confront him in his office, he turns the tables and offers her a job. But can she keep her mind on business in such close proximity?
UNSPOKEN, By A Lexy Beck
A chance encounter with a gorgeous stranger leaves Jennifer in emotional turmoil as she struggles with a new job, overcoming her past mistakes that still haunt her, and her relentless father that expects perfection. Everything isn't as it seems; the lines are blurred between business and pleasure.
Caught by the Blizzard, by Adele Huxley
When Liz's mother died of breast cancer, her life changed dramatically. When Bryan "The Blizzard" crashed qualifying for the Olympic downhill team, his life would never be the same. Will these two scarred people break down the walls they've built and allow themselves to heal?
Stronger, Runaway Book 1, By: Lexie Ray
He's given her a reason to live again, but when Jasmine discovers that Nate is keeping a deadly secret, will their love be strong enough to survive?
Saving You, Saving Me by Harmony Raines
Curvy girl Erica is stranded in the middle of nowhere. When she hears an engine in the distance she is convinced her abusive ex-boyfriend has found her. Instead she is saved by a biker, with secrets of his own. Can these two lost souls save themselves, by saving each other?
Book 13: CAPTIVATED, by Emily Jane Trent
Adam Bianci, a gorgeous self-made billionaire, is caught in a web of lies and abuse. Will he walk away from Ella to protect her, or face the enemy that haunts his life?