The Princess and the Huntsman by Patricia Green
$4.95 -
Amazon
and
Barnes and Noble
Though she was once as sweet as she is beautiful, since her mother's untimely passing Princess Brandywyn seems to grow brattier with every passing year… until the day she is waylaid by a band of ruffians and dragged away into the forest. She is taken far from her home, but at last she is rescued from the outlaws by a simple huntsman named Tom and her life is changed forever.
Neither Tom nor anyone else will believe that a girl dressed in rags could be a princess, and without the slightest idea of how to get home, Brandywyn finds herself with no choice but to accept Tom's offer to share his cottage. The feisty nineteen-year-old princess soon learns, however, that Tom will not stand for being treated as a servant. To her horror, Brandywyn discovers that arrogance will earn her a good, hard spanking on her bare bottom, and that more serious misbehavior will result in even more humiliating punishment.
In spite of his strict discipline, Brandywyn begins to feel things for Tom that she has never felt before… things that make her blush with shame. A princess should not dream of being stripped bare and taken long and hard by a commoner, yet dream of it she does. But what will her answer be if he asks for her hand, and what will come of them if her father finds her and returns her to the palace? Can a princess not only lust for a huntsman, but love him as well?
Publisher's Note: The Princess and the Huntsman is an erotic novel that includes spankings, anal play, graphic sexual scenes, exhibitionism, elements of BDSM, and more. If such material offends you, please don't buy this book.
Love Struck by Patrice Wilton
$2.99 -
Amazon
and
Barnes and Noble
"LOVE STRUCK" by USA TODAY Best Selling author PATRICE WILTON.
Can Samantha and Kyle resist their attraction and find a way to save the town? The "love bug curse" and the discovery of gold has turned Serendipity Falls into a place where no one is safe.
This is the third and final book in the Serendipity Falls series, and I want to thank all my readers for enjoying these fun, light hearted stories, and hope you'll love this one too. Coming this summer please follow Cupid on a new adventure in Vegas.
Knight of Runes by Ruth A. Casie
$2.99 -
Amazon
and
Barnes and Noble
England, 1605
When Lord Arik, a druid knight, finds Rebeka Tyler wandering his lands without protection, he swears to keep her safe. But Rebeka can take care of herself. When Arik sees her clash with a group of attackers using a strange fighting style, he's intrigued.
Rebeka is no ordinary seventeenth-century woman—she's travelled back from the year 2011, and she desperately wants to return to her own time. She poses as a scholar sent by the king to find out what's killing Arik's land. But as she works to decode the ancient runes that are the key to solving this mystery and sending her home, she finds herself drawn to the charismatic and powerful Arik.
As Arik and Rebeka fall in love, someone in Arik's household schemes to keep them apart, and a dark druid with a grudge prepares his revenge. Soon Rebeka will have to decide whether to return to the future or trust Arik with the secret of her time travel and her heart.
Chances and Choices: Books 1 AND 2 of the Chances and Choices Duology by Ann Omasta
$2.99 -
Amazon
Spice-o-meter Rating: This fun, steamy romance is a solid 7.5, maybe an 8, on a scale of 1 to 10, with 1 being Mild (Grandma's diary - let's hope!) and 10 being Ooh La La, I'm blushing, but I can't seem to stop turning the pages (The Fifty Shades of Grey Red Room of Pain).
If YOU love reading about naughty, complicated love-triangles or enjoy fun, contemporary romance novels with surprising twists along the way, get ready to spend the day reading "Chances and Choices."
In "Taking Chances" (the first half of this fast-paced, exciting story), we meet Abigail Brown, a 28-year-old divorcee who has never had an orgasm, much to her chagrin. Despite being self-conscious about what she considers to be her body's failings, she has built a terrific life for herself in the quaint, lakeside town of Harbor Shores, Michigan. Abby thinks that she has discovered her 'happily ever after' ending when she stumbles upon the perfect man. Just when you think you have this book all figured out, some unexpected surprises come along and completely shake up Abby's world.
Abby needs to make some difficult decisions in the second half of her story, "Making Choices." Who will she choose? Who should she choose? She has made a mess of her life. Will she be able to fix it or is it too late?
With "Chances and Choices," you get both novels, combined into one terrific book, for one low price. Get your copy NOW because it's a great day to relax and enjoy reading a new book that you won't want to put down!
Fur, Fangs and All by Meredith Allen Conner
$3.99 -
Amazon
and
Barnes and Noble
A desperate werewolf
Beaten down and exhausted from a life on the run, Livie takes refuge with her sister while recovering from a bullet wound. The only problem is she can't relax. How can she when she is surrounded by werewolves? Big and powerful with the ability to grow fur and lethal fangs, the creatures horrify her. Especially him.
A frightened woman with an amazing power
All he has ever wanted is to find his mate. The moment he smells her, Roc knows he has finally found his mate. And she is terrified of him. He never expected to have this problem with his mate. But he will do anything to keep her and make her his. If that means chaining her to his bed . . . so be it.
Alone they have nothing, but together they can have it all.
More Than Friends by Aria Grace
FREE -
Amazon
and
Barnes and Noble
Tired of moping around after the breakup of his long term girlfriend, Ryan knew he needed a hookup to get him out of his funk. When he met Drea, he hoped she might be the one. But when he felt more chemistry with her gay cousin Zach, Ryan was more confused than he had ever been in his life. He wasn't gay but he wanted to be with Zach. How could it possibly work?
**Contains explicit descriptions of erotic gay moments**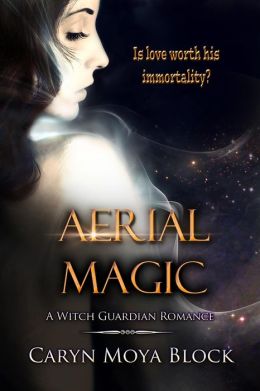 Aerial Magic by Caryn Moya Block
$3.99 -
Amazon
and
Barnes and Noble
- Coming March 9, 2015
Elise Delaire, the Guardian healer, goes to the bonding ceremony of her best friend. While there, Mabel Avery, the commander of the Guardians, introduces her to Curtis Brant. But when Elise shakes Brant's hand, she realizes that not only is this man not who he says he is, he is also her Destined One.
Owen Avery is on a mission from the queen of the Fae. Apprehend the rogue Fae who is now being called the Red Wizard. Everything is going according to plan until he shakes hands with the delectable Elise. Not only can she see through his disguise, but her touch causes his magic house tattoo to take on color, proving that she is his Destined One. Is he willing to give up his immortality and his home, the land of the Fae, to claim her?
Assassins Bite by Mary Hughes
$4.24 -
Amazon
and
Barnes and Noble
Only her light can burn away his shadows.
Biting Love, Book 8
On her first night as a police officer, Sunny Ruffles takes down three felons…only to be attacked by a gang of vampires who are a whole new level of hurt.
Then a mysterious shadow man intervenes, saving Sunny before he disappears. She runs after him, telling herself her pursuit has nothing to do with his sharp, stubbled jaw, his powerful shoulders, or his sexy-as-hell, kissable lips.
Rescuing the humans makes Aiden Blackthorne late for a critical meeting with the vampire Nosferatu's daughter. Yet clompy, bumbling Sunny draws him back like wild honey. He kisses her, and he's almost got her down to her underwear when a bomb meant for him explodes.
The last thing Aiden wants is to drag Sunny into his hellish conflict with Nosferatu. But Aiden's a loner whose only friend has mysteriously disappeared, and the woman who smells and tastes like his mate is the only backup he has left. He'll need her, everything he is, everything he was—and everything he might have been—to defeat his evil master and claim the love he never dared hope to have.
Warning: This book contains shadowy assassins
shooping
off vampire heads, cops bumbling in at the worst of times and opposites attracting, colliding, and exploding in lust—a.k.a., explicit fighting, humor, and sex.
Heart Mates by Mary Hughes
$4.40 -
Amazon
and
Barnes and Noble
- Coming April 28, 2015
Witch plus wolf? They're allergic. Except no one told their hearts.
Pull of the Moon, Book 1
Shifters and witches? Forbidden on pain of death. Might as well stick a fork in a light socket. Yet those are the kind of sparks witch princess Sophia Blue feels when she meets wolf shifter Noah in her aunt's bookstore.
But Sophia is stuck. Her aunt is missing and Noah, the last person to see her, is Sophia's only hope. If not for that and her aunt's new, cute little doggie, Sophia would run as far as she could from the sexy, hard-hewn alpha.
Noah's stuck too. Before disappearing, the aunt hit him with a hex gone horribly wrong—he's the doggie. By day he's fifteen pounds of yippity-yip, and with five anti-alpha wolves nipping at his heels, that's deadly dangerous. Only Sophia can help him, but she has lost her magic.
Then an evil mage from Sophia's past shows up with murder on his mind, and all Noah's instincts shout to protect the woman his misguided heart thinks is his mate.
Warning: Sinfully sexy alpha thrown together with a hot witch in a small town. Sass, sparkle, a meddling aunt, snafus, growling, fighting, and oh yeah, sex. Might want to get up to date on your shots.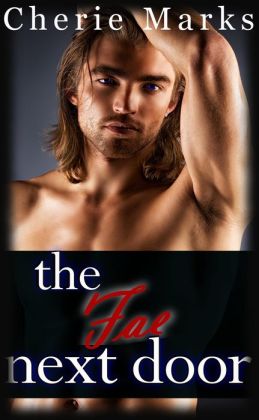 The Fae Next Door by Cherie Marks
$0.99 -
Amazon
and
Barnes and Noble
Janna Thompson believes she's going downright mental. In the past few weeks, she's seeing things no one else can see and can't shake an ominous presence. Yet, when a hot cop with a protective instinct moves into her apartment building, things might be looking up.
Cade Lanter is no ordinary being. The son of a human policeman and a Queen of the Fae, he lives in the human world for now. When an enemy of old threatens the balance of both the human world and Eiru, Land of the Fae, he must fight the would-be usurper in the human realm. Of course, that might require more focus than he can muster lately since a certain, sexy neighbor keeps him distracted.
Their two, unlikely worlds collide when he becomes The Fae Next Door.
Lost in New Falls by Cherie Marks
$0.99 -
Amazon
and
Barnes and Noble
Kate Delaney left New Falls, Tennessee, heartbroken and hell-bent for Hollywood. She's spent the last ten years in LA, but is back in town, fifty pounds lighter, California hotter, and she's written The End on a screenplay, which is movie magic in the making. Just one problem—a nerve-nuking thief runs-off with her laptop, attached USB back-up, and the contents of her underwear drawer—and as if that wasn't enough, the heartbreaker from ten years ago just walked through the door with a sheriff's badge and looking more hormone-carbonating than ever.
Quentin Taylor likes the new and improved Kate, but honestly, his feelings are anything but new. When a teen-aged Kate bloomed, her older brother Reese established a no-look, no-touch, no-anything else rule. Quentin figured it was the anything else that worried him most. Attractive then, now she was sex-on-a-stick hot, and he needed to know one thing. Was touching her still off-limits?
Despite a meddling, matchmaking mother, a gossiping dispatcher/receptionist with an obsession for orange, and a small-town burglar who steals thimble collections, garden tools, and underwear, Quentin and Kate search for her missing script and try not to fall for each other as they get Lost in New Falls.