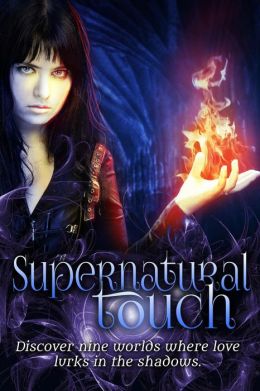 FREE
Amazon
Barnes and Noble
*
**9 full-length books in one supernatural box set.***

*Note: most of these books are the first in a series.*
Enter a world where monsters are real, where witches and sirens exist, where lives are changed in an instant. Where sometimes, love
can
conquer all.
Supernatural Touch
explores all this and more, in 9 full-length paranormal romance novels that both teens and adults will love.
Come inside and discover:
Alex Finch: Monster Hunter (The Monster Files Book 1)
by Cate Dean
Meet Alex Finch - tomboy, techno geek, monster hunter.
Reluctant monster hunter.
A Brush With The Moon (Foxblood Series Book 1)
by Raquel Lyon
One moment is all it takes to change your life. For Sophie, it happened the day the fox attacked her.
Halloween Magic and Mayhem
by Stella Wilkinson
How on earth did I end up here? I was supposed to be at a party kissing the boy of my dreams, instead I'm dancing naked on the town common, on Halloween, with a Coven of strange women who might be witches. Just yesterday I was an ordinary teenager...
The Wrong Girl (Freak House Trilogy #1)
by C.J. Archer
When narcoleptic Hannah Smith is abducted from her attic prison by mysterious Jack Langley and taken to Freak House, she's desperate to know what they want with her--until she learns they took the wrong girl.
Sound of Sirens (Tales of Skylge #1)
by Jen Minkman
An ancient land protected by a Tower of Light, its people ever tempted by Siren song, and a girl who falls for the wrong boy.
Deception (The Transformed Series Book 1)
by Stacy Claflin
Alexis Ferguson thinks she has everything figured out, but has no idea how wrong she is. Set up on a blind date, she meets a gorgeous stranger and feels that she's known him her entire life, but she has never seen him before.
Wings of Shadow (The Underground Trilogy Book 1)
by Anna Kyss
Meghan's graduation gift is one that any eighteen-year-old would dream of: traveling abroad to England. Her journey turns into more adventure than expected when Meghan meets the mysterious Kiernan and accepts his invitation to a secret club, hidden beneath the streets of London.
Minor Gods (Summoners Book One)
by A.M. Yates
In the secret tribes of the Core, humans walk a tenuous line, using ancient masks to channel the gods and their elemental powers. But the delicate balance between gods and man is fractured when someone resurrects the forbidden mask of a ruthless Earth Goddess and begins a war. Her goal . . . reclaim the natural world from human civilization. Her first victim . . . Josie Day's mother.
Kissed (The Thorn Chronicles #1)
by Kimberly Loth
Three boys. Two kisses. One devastating choice.