Pisces: A Zodiac Twin Flame Novel Book 1 by Rachel Medhurst
$0.99 or FREE for Prime Members -
Amazon
The bracelet around my wrist was a permanent reminder of my mission. The silver charm that was attached to the leather cord was stamped with my birth sign. Mission: Unite with my twin flame soulmate in this lifetime.
My brothers, sisters, and I were each named after the star sign we were born under. We knew that our soul purpose was to fall madly in love and battle through the obstacles that led to that true love.
Antony crept up on me and caught me unaware. He was nothing like I'd imagined my twin flame soulmate to be. When he started to run, I found that I had to give chase. I had to complete my mission.
Choices: Make Me Paranormal by Cora Maxine
$0.99 or FREE for Prime Members -
Amazon
I always wondered which paranormal being I would choose to be, but never thought I'd be forced to make the decision.
As an urban fantasy author, Jupiter Hayes knows all about the things that go bump in the night, but she never dreamed that those beings could be real.
Summoned to a secret paranormal facility within the Great Smoky Mountains National Park, Jupiter finds out that not only are these beings real, but she's destined to become one of them.
Soon she's cut off from the life she once knew as she spends time getting to know each society in need of new members. But, some of those societies may be a better fit than others, due to her own bloodline.
Throw in a sexy vampire and a gorgeous warlock and it's easy to see that Jupiter Hayes has some tough choices to make.
Chosen: Make Me Paranormal Book 2 Coming Summer 2015!
Grayson Manor Haunting by Cheryl Bradshaw
$4.99 or FREE for Prime Members -
Amazon
From New York Times bestselling author Cheryl Bradshaw:
When Addison Lockhart inherits Grayson Manor after her mother's untimely death, she unlocks a secret that's been kept hidden for over fifty years. For Addison, it seems like she's finally found the house of her dreams...until the spirit of Roxanne "Roxy" Rafferty comes to call. Who is Roxanne, why is she haunting Grayson Manor, and how will Addison's connection reveal a key to her own past that she thought no longer existed?
River's Recruit by Charlotte Abel
FREE -
Amazon
and
Barnes and Noble
Best Selling Author introduces a 'new adult' paranormal romance.

Jonathan McKnight lost everything in Afghanistan. His left hand, his identical twin, his self-respect and his naive belief that good always triumphs over evil. Burdened by grief and guilt, he searches for redemption on a solo backpacking trip into the remote Sawatch Mountains of Colorado and discovers a secret tribe of shifters.

River, the beautiful young shifter that rescues Jonathan has been promised to a man she despises. A man that does not desire her and only wants to use her to achieve his own political goals. Jonathan is more than a romantic rival. He's a threat to those goals.

The only way to save Jonathan's life is for River to take him as her recruit.

As Jonathan learns more about the horrors of River's cult-like society, he becomes even more determined to escape it, until he learns that River is responsible for everything he does and will be executed if he succeeds.

Escape is not an option—unless Jonathan can persuade River to leave with him. And if she refuses? Well, then, he'll just have to kidnap her.



Book One of The Channie Series

Paranormal Platinum Award Winner

OVERVIEW:
When Channie Belks moves from her home in the Ozark mountains to a suburban Colorado high school, she tries to hide the fact she's a mage. It might have worked until her parents slapped a chastity curse on her for flirting with "dirty-minded, non-magical, city-boys." She can't even walk by a hot guy without zapping him.

There's a way to break the curse; but one mistake could kill her. It's not worth the risk. Until she meets Josh…a BMX champion with a dazzling smile, washboard abs and the bluest eyes she's ever seen.

Suddenly, the threat of death isn't such a deal-breaker.

***WARNING*** The characters in this book swear. They also think about, talk about and sometimes engage in sexual behavior.
Capture the Moon by Tamara Bond
$2.99 or FREE for Prime Members -
Amazon
Annabelle Moon has experienced random psychic premonitions her entire life, but she's kept them a secret ever since her parents told her others would ostracize her for them. But when she has a vision that helps the police rescue a kidnapped child, the cat's out of the bag, and it ultimately leads her to take some big steps including a divorce from her rich, powerful and cheating ex-husband.

Anna starts a new life on her own with a big settlement from her ex, but before she can decide on a next step, a friend in England talks her into leaving Manhattan for The Cotswolds to help track down her lost sister. The hope is that Anna can use her psychic gifts, but she has no idea how to control them. Still, she's pretty good at solving puzzles and tries to meld both talents to solve the mystery. Turns out, they're a pretty hot combination.

Then, of all things, Annabelle runs into the most difficult yet mesmerizing man she's ever met. And even though romance is the last thing on her mind after her recent divorce, will this tall, infuriating Englishman wear down her defenses?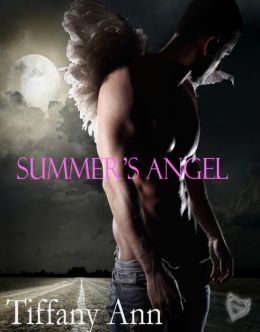 Summer's Angel by Tiffany Ann
$2.99 -
Amazon
and
Barnes and Noble
Summer couldn't believe it when she was offered a job with one of the leading translators of the written word, Walter Addison. Of course, being his great-niece could have had something to do with the offer. She arrives in Marblehead ready to help her great uncle and his partner in any way she can.
Leviah is a Fallen Angel having been cast out of Heaven for not choosing a side. He roamed the world for centuries until he met the first Addison. Since that time he has stayed with the family, helping them in whatever way he could. He never expected Walter to choose a vibrant, strong-willed female to take his place as caretaker of the Addison Estate, or assist in the world of translations.
When Summer meets Leviah sparks fly and the attraction is instant. Now if he can just figure out a way to show her his wings and horns that won't send her running back to New Orleans. Forget returning to Heaven, he is ready to be Summer's Angel...
Tall, Dark and Furry by Meredith Allen Conner
$3.99 -
Amazon
and
Barnes and Noble
A powerful werewolf seeking his mate
On the run and about to be captured, Sela seeks safety in a bar where she discovers more than just a chance to keep on living. She meets Mac - a werewolf. Despite having an elemental power, Sela had no idea there were other different beings living among the humans as well. She doesn't know if she can afford to trust the big werewolf – even if he does call her mate.
A woman who can control the element of water
After centuries of searching for his mate, Mac had almost given up trying to find her. Now that he has found Sela, he will do any and everything in his power to keep her. Including fighting a dangerous fanatical group determined to have Sela's power over water for their own and tracking down her sisters, also on the run from the group of fanatics. All of which may prove pointless in Mac's efforts to win Sela if he can't earn her trust first.
Brought together by chance, only trust and love can keep them together
Fur, Fangs and All by Meredith Allen Conner
$3.99 -
Amazon
and
Barnes and Noble
A desperate werewolf
Beaten down and exhausted from a life on the run, Livie takes refuge with her sister while recovering from a bullet wound. The only problem is she can't relax. How can she when she is surrounded by werewolves? Big and powerful with the ability to grow fur and lethal fangs, the creatures horrify her. Especially him.
A frightened woman with an amazing power
All he has ever wanted is to find his mate. The moment he smells her, Roc knows he has finally found his mate. And she is terrified of him. He never expected to have this problem with his mate. But he will do anything to keep her and make her his. If that means chaining her to his bed . . . so be it.
Alone they have nothing, but together they can have it all.
Dark Guardians Trilogy: Cruxim, Creche & Creche Box Set by Karin Cox

Discover the bestselling paranormal romance DARK GUARDIANS TRILOGY by Karin Cox in this all-new box set, all for an amazing discount price.

Book 1 Cruxim: You are Never Alone
Book II Creche: Know Thyself
Book III Creed: All Things Know Where They Belong

DARKNESS HAS OVERRUN THE EARTH...
Vampires and their plague-poxed brethren threaten to drown Europe in a blood-borne wave. At their helm, is Beltran, a vampire whose malicious nature is as black as his many secrets and sins. Standing between such evil and the destruction of all Cruximkind is Amedeo Aeternus—the immortal half-Cruxim hybrid and dark hunter of an ancient prophecy, the fallen angel Cruor driven on by an unremitting desire for revenge on vampires worldwide. Set in 18th Century Europe, an epic saga of forbidden love plays out amid a mighty battle of good against evil, fallen angel against nosferatu devil, and reason against madness in an adventure fantasy series a critic from Literary R&R described as "like the next Anne Rice series. There's a love story alongside some pretty gruesome and evil stuff " and others have called "compelling ... dark, visceral and not for the squeamish."