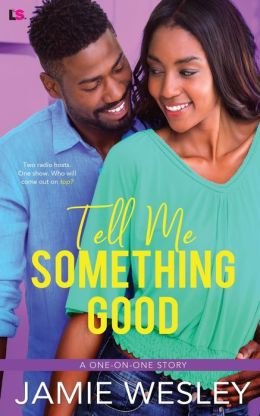 Tell Me Something Good by Jamie Wesley
$0.99
Two radio show hosts. One show. Who will come out on top?
In a moment of restlessness, Tate Grayson sold his multimillion-dollar company and spun his love of sports into a radio talk show. Life, and love, is too short to take seriously—a fact he enjoys rubbing in uptight radio host Noelle Butler's face.
After the death of her parents, a tragedy she blamed on herself, Noelle vowed to live a controlled, focused life. Now a psychologist, she channels her need for connection into her radio show. But when the arrogant sportscaster next door tells listeners men shouldn't get married, she's all too happy to yank the silver spoon out of his overprivileged mouth.
Their heated on-air arguments are a hit, but when the station director forces them to do a joint show for two weeks, Tate and Noelle object. They can't stand each other, despite the attraction sizzling beneath every interaction. But if they can't pull the struggling radio station back from the brink, they'll lose their jobs. Or worse, their hearts.
The Playboy (Hot Aussie Heroes Book 3) byMadeline Ash
$0.99 or FREE for Prime Members
Wanted: Sexy sun-kissed surfer for hot summer fling
Innocent Alexia Burton needs to become sexually confident for an upcoming acting role, and that means taking a lover. Someone she's attracted to. Someone who'll teach her what she needs to know, but not ask for more than she's prepared to give. She needs to learn the intensity of true desire and then have him walk away.
Parker Hargreaves is determined to make amends for treating Alexia badly all those years ago. He's changed and wants her to think better of him. If that means letting her sharpen her sexual moves on him so be it. He'll do it. His playboy reputation certainly won't suffer.
He just doesn't count on walking away being so hard.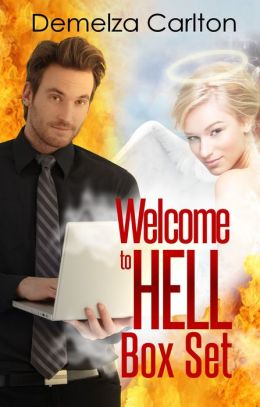 Welcome to Hell Box Set by Demelza Carlton
$0.99
Four bargain-priced bestsellers in one box!
This box set includes:
Welcome to Hell (Mel Goes to Hell #1)
See You in Hell (Mel Goes to Hell #2)
Mel Goes to Hell (Mel Goes to Hell #3)
Melody Angel's Guide to Heaven and Hell
Welcome to Hell:
"Good morning. Welcome to HELL."
Mel hates job interviews - and this one's shaping up to be the interview from Hell.
From the grumpy receptionist to the disturbingly demonic interview panel and the sleazy CEO, it seems landing her first job is the least of Mel's worries.
Can she make it out of the office alive without selling her soul?
See You in Hell:
Melody Angel takes a job as a temp at the HELL Corporation. Surrounded by eternal bureaucracy gone mad, demons who love making life miserable, and dying for a decent coffee, it may take a miracle for Mel's mission to succeed. She must find out what evil plans Lucifer and his minions have in store and stop them, using any means necessary.
Adding trouble and temptation to Mel's job is Luce Iblis, the damnably hot CEO, who has set his smouldering eyes on the new office angel and he's determined to claim her, body and soul.
Can ultimate evil and angelic perfection escape a limbo of desire and find a paradise of their own?
Mel Goes to Hell:
The ultimate forbidden love - when Lucifer falls for an angel.
Luce and Mel unearth an age-old conspiracy behind his fall from Heaven which could doom their love for eternity. Yet in the deepest levels of Hell lies a secret that could hold their salvation.
Eternal damnation awaits any angel who descends into the Pit of Despair, but Mel will move Heaven and Earth to save Lucifer's soul. Armed with little more than the fury of a righteous angel, Mel will raise Hell in the name of love.
From the heights of Heaven to the depths of Hell, can love truly conquer all?
Melody Angel's Guide to Heaven and Hell:
Can't tell an angel from a demon? Want to know more about supernatural beings? Ever wonder why Lilith's so interested in children? Or how many levels there are in Hell?
Look no further!
This is Melody Angel's guide to some of the immortals found on Earth and in Heaven and Hell, with concise descriptions of their history and the realms they reside in.
A companion guide to Demelza Carlton's Mel Goes to Hell series.