All's Fair by Marley Gibson
$0.99
Jordana Lopez has spent her life on the outside looking in and living in other people's shadows, but now it's time for her to shine. No longer is she the gangly little sister of a beauty queen or a Hollywood super star. Now, Jordana is making it on her own as one of the culinary world's hottest up-and-coming young chefs and everyone wants her. However, she only has eyes for the one person who has eluded her since her teenage days, former Miami Tarpons player and now team owner, Dante Laredo. He finally sees her for the beautiful, talented, and smart woman she is and not the awkward, mousy, braces-wearing little kid who was forever hanging around his parents' kitchen with her mother, their chef, Rosa. Now, Dante is willing to risk everything--including signing football's most wanted free agent who just happens to be his fiancee's brother--to claim Jordana as his own. However, his twin brother, Lorenzo, the real brains behind the operation of the Miami Tarpons, has something to say about his brother fraternizing with the daughter of their cook. Lorenzo makes it his business to divert Dante's attention away from Jordana and entertain Jordana himself in order to take the team to a whole new championship level...because all's fair in love and football.
All's Fair is the fourth novel in the A Glamorous Life series by bestselling author, Marley Gibson. Other books include: You Had Me at Merlot (Book 1), Head Over High Heels (Book 2), Saving Face (Book 3).
This book contains adult situations, language, sexual content. Mature audience; 18+.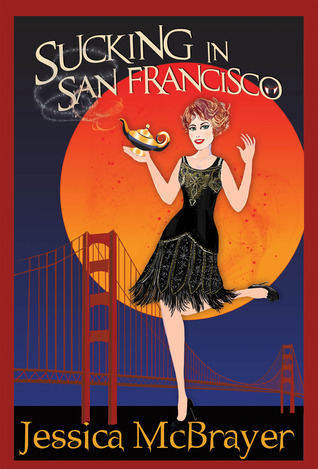 Sucking in San Francisco (San Francisco Vampires #1) by Jessica McBrayer
$3.99
Working at a Suicide Prevention Center in San Francisco, Lily Goodwill thinks she's heard it all—then she gets a call from a man about to jump off the Golden Gate Bridge. Something about the caller, maybe his yummy British accent or Lily's ability to understand his crushing ennui, makes her break all the rules and rush to meet him. After all, she is a vampire and if she can't talk him down she can glamour him.
But things don't go according to plan. Her caller glows with blue fire and turns out to be a vampire-hating Djinn. Suddenly, for the first time in centuries he's found something intriguing. Is Lily really a vampire with a conscience and an obsessive-compulsive disorder, involving Handi-wipes and Lysol, or is she just another bloodsucker?
Add in another vampire, with a history of female lovers stretching over three centuries, who swears he's reformed and declares his undying love for Lily. Stir in a mean pair of witches and a vicious warlock, who are staking vampires around the city and you have a recipe for riotous adventure of supernatural proportions.
Lily Goodwill is a quick thinking, smart-talking vampire who's still figuring out how she feels about dining al fresco in the City by the Bay.
Murder on the Hill by Kennedy Chase
$0.99 or FREE for Prime Members
Look out London, there's a new investigator in town! Harley Hill is a twenty-five year old woman in need of a new identity. Until now she's been know as many things:
Baker, Crazy Cat Lady, Thief, Bandit, The girl dressed like a ninja…
When she's offered an investigative position at the Silvers Finders Agency, she decides it's time to go straight. Her first case is to discover why a mysterious object was left behind at a jewelry store break-in. But when it turns into a murder case, Harley will need all her skills to find the killer and uncover the secret of the artifact.
With the help of her new friends, an inquisitive cat, and two sexy men, Harley faces a race against the clock to catch the murderer. If she fails, it won't just be the job she loses—but her life.