Rings On Her Fingers by ReGina Welling
(Regularly $2.99)
Julie Hayward was not a believer in the paranormal. Newly engaged with a photography career just starting to take off, her life is almost comfortable. The only thing she lacks is enough money to repair the family home. But, when her best friend, Gustavia, drags her to a visit with a psychic thinking it will be a fun engagement gift, things get really crazy.
A ghostly encounter provides a cryptic clue to the location of the lost family fortune and a warning that her fiancé is not what he seems. Launched into a wild adventure, Julie must learn to listen to her heart, her intuition and the ghosts that will guide her in order to solve the mystery.
Journalist, Tyler Kingsley gets drawn into the search. What red-blooded male could resist a treasure hunt? The idea gets his blood pumping and so does Julie. When he realizes that her fiancé might be dangerous, he decides to protect her at any cost, even if he loses his heart.
This is a clean, sweet, romance that combines mystery and humor with the paranormal.
Paradox - The Angels Are Here by Patti Roberts
Two mysterious strangers arrive just in time to help Grace Connors as she struggles to cope with the death of her father. But are the intentions of these strangers as innocent as they first seem, or is something far more sinister on their agenda?
Meanwhile, in a faraway realm, a race of fallen Angels clash with a ruling house of Angels. Their battle changes events in the Ancient World and the New World forever. A realm where a year can last centuries and an ancient, magical people still rule... A realm where even the immortals face danger.
A story that will indeed leave you asking... Who, When, Where? WHAT!
My name is Juliette. Nine hundred years ago, I died. Today, I am alive... This is my story.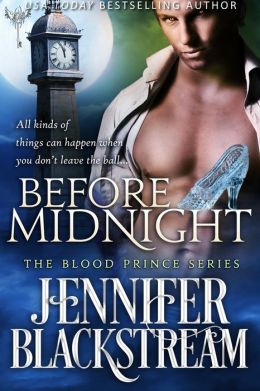 Before Midnight: A Romantic Retelling of Cinderella by Jennifer Blackstream
(Regularly $3.99)
An alpha wolf fighting a powerful curse . . .
The werewolf prince Etienne is turning into a human. A fierce and loyal pack, Etienne and his family have protected their kingdom with tooth and claw—literally—for hundreds of years. Unfortunately, the spell of a well-meaning witch is slowly stealing the beast from inside him. Only the bite of a cursed werewolf—one who was not born with the beast inside—can save him from losing everything. He has no time for anything that will not lead him to a cure for the curse. Not even the beautiful maiden whose gentle nature soothes his soul even as she tempts him into primal pursuits of an entirely different nature…
A maiden enslaved by her stepfamily, who dares to reach for more . . .
Loupe lives in terror. Terror of the bloodthirsty stepfamily who treats her like a slave, and terror of the beast trapped inside her. Bitten by a werewolf while dealing with the illegal gains of her stepfamily's poaching, Loupe's dreams of a strong husband who would take her away from her servant-like existence are over. A woman who becomes a mindless beast on the night of the full moon has no place in a marriage bed. Not even if that bed belongs to a prince with the manners of royalty and the hungry eyes of a wolf.
Nothing will stand between an alpha wolf and his mate . . .
A grand ball. The stroke of twelve. A magic "slipper." All kinds of things can happen when you don't leave the ball…Before Midnight.