Dying for a Dude by Cindy Sample
$2.99
Amazon
and
Barnes and Noble
2015 LEFTY Award Finalist for Best Humorous Mystery
When Laurel McKay agrees to perform with the Sassy Saloon Gals during Hangtown's annual Wagon Train parade, her greatest fear is a wardrobe malfunction. Before she can lace up her corset, a 150-year-old skeleton turns up on her grandmother's property. Did Laurel's great-great-grandfather murder his mining partner? Gran insists not and wants Laurel to prove it.
Then the body of a prominent citizen is discovered shortly after Laurel's ex-husband Hank decked him. Her detective boyfriend puts the kibosh on Hank's efforts to win Laurel back by arresting him for murder. With her children devastated by their father's arrest, Laurel, with the help of her zany friends and family, must find the real killer. Juggling two kids, a new boss, a wilting romance, and murder investigations would be enough to turn any woman into a chocolate addict. Extra pounds are the least of Laurel's worries as she and her Mustang-driving octogenarian grandmother try to unearth some long-buried secrets before the killer adds their names to Hangtown's bloody history.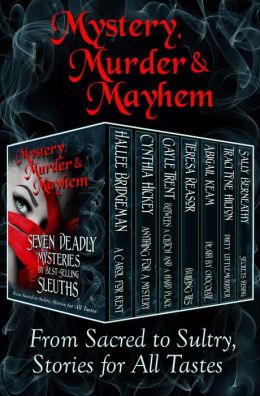 Murder, Mystery, & Mayhem
$0.99 -
Amazon
and
Barnes and Noble
These authors kill it! Seven incredible mysteries from seven best selling authors in this limited time collection! You'll find a story for every taste.
A Carol for Kent by Hallee Bridgeman: A ruthless serial killer seeks to end a love song eight years in the making.
Anything for a Mystery by Cynthia HIckey: For best-selling romance author, Stormi Nelson, switching genres could get her killed.
Between a Clutch and a Hard Place by Gayle Trent: When Myrtle Crumb finds a cryptic note in a consignment store purse, she simply has to investigate. Will she find more trouble than she bargained for?
Building Ties by New York Times Best Selling Author Teresa J. Reasor: Navy SEAL Brett 'Cutter' Weaver is on a mission to Nicaragua when he learns his bride-to-be, Tess Kelly, has been injured in a car bombing. He rushes home on the next available transport and arrives to find Tess embroiled in three controversial stories. There's a killer stalking her, and one interview at a time, they mean to catch him.
Death By Chocolate by Abigail Keam: Josiah Reynolds is tracking down the disappearance of an old friend's son. But while she is chasing a missing person, O'nan is hot on Josiah's trail chasing her. And he is threatening, conniving, and blackmailing others to help destroy the woman he thinks ruined his life. Will he finally succeed?
Dirty Little Murder by Traci Tyne Hilton: Everyone seemed to love Douglas Swanson—just ask his wife, his ex-wife, or the many girlfriends he left in his wake. So when Jane Adler found him dead at the bottom of his hot tub, the question wasn't how he had died, but whose passion had taken a violent turn.
The Wiles of Watermelon by Lynette Sowell: In Greenburg, TN, someone has been keeping skeletons in the watermelon field that should have stayed stored away in the past. Murder stalks those who would solve the years old case.
Murder Strikes a Pose by Tracy Weber
$9.59 -
Amazon
and
Barnes and Noble
When George and Bella—a homeless alcoholic and his intimidating German shepherd—disturb the peace outside her studio, yoga instructor Kate Davidson's Zen-like calm is stretched to the breaking point. Kate tries to get rid of them before Bella scares the yoga pants off her students. Instead, the three form an unlikely friendship.
One night Kate finds George's body behind her studio. The police dismiss his murder as a drug-related street crime, but she knows George wasn't a dealer. So Kate starts digging into George's past while also looking for someone to adopt Bella before she's sent to the big dog park in the sky. With the murderer nipping at her heels, Kate has to work fast or her next Corpse Pose may be for real.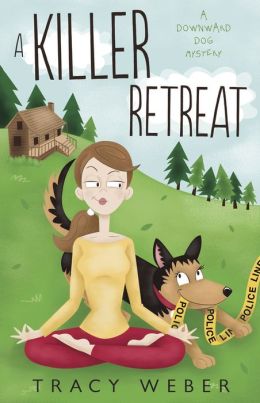 A Killer Retreat by Tracy Weber
$9.59 -
Amazon
and
Barnes and Noble
When Kate Davidson gets an offer to teach yoga classes at the Elysian Springs resort, she jumps at the opportunity—even if it means enduring the wedding ceremony of the center's two caretakers. But avoiding the M-word turns out to be the least of Kate's problems when a wedding guest is found floating face-down in the resort's hot tub, shortly after a loud, public fight with Kate.
The police pick Kate as their number-one suspect, so she teams up with her boyfriend Michael, best friend Rene, and German shepherd sidekick Bella to find the real killer. They must solve the crime before the police arrest Kate, or her next gig may last a lifetime—behind bars.
The Long Meow Mystery by Kathy Carmichael
$3.99 -
Amazon
and
Barnes and Noble
Amy Crosby needs her husband dead -- fast.
Not that she plans to kill him. He disappeared seven years ago. Amy just needs to have him declared legally dead to save her house from foreclosure.
Sounds simple.
But then someone keeps breaking into her house -- and anonymously trying to blackmail her. She has a new housemate -- an injured cat named Chappy -- plus businessman Jerome Keller who wants to be her fiancé, and police detective Brad Tyler who just wants to protect her.
Her husband -- legally dead or not -- is stirring up a whole lot of trouble.
Italian Summer by Maria Grazia Swan
$2.99 or FREE for Prime Members -
Amazon
When they say, "you can't go home again," they're talking about Mina Calvi, twenty-something Italian transplant to California. Still, nursing a broken heart, desperate to discover her place in the world, Mina arrives in the town of her birth in Veneto, Italy. In the decade she's been gone, the village nestled at the foot of the Dolomites has changed much, yet remained oddly the same. Friends have moved on, family members passed away. Mina feels even more alone in her motherland than in America, and there seem to be too many bizarre deaths for such a tiny, serene village. Then a fresh chance at true love and a welcome bonding with a dear new friend give her hope. But the deadly secrets moldering in the centuries-old cemetery could rip it all from her and leave Mina emptier than before. Will she find herself or lose her heart again? Can Mina survive her Italian Summer?
Stranger in Town by Cheryl Bradshaw
$4.99 -
Amazon
and
Barnes and Noble
Six-year-old Olivia Hathaway tiptoes down the center aisle of Maybelle's Market, stopping once to glance over her shoulder and make sure her mother isn't watching. But Mrs. Hathaway is too preoccupied to notice her daughter has slipped away. Minutes later, a frantic Mrs. Hathaway runs up and down the aisles, desperately searching for her missing daughter. But Olivia is already gone. Will PI Sloane Monroe find her before it's too late?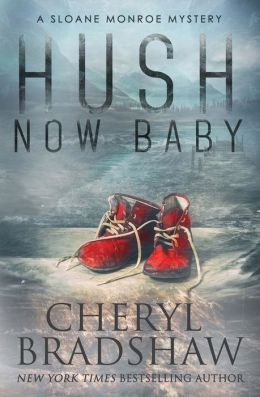 Hush Now Baby by Cheryl Bradshaw
$4.99 -
Amazon
and
Barnes and Noble
On a crisp, fall night, Serena Westwood wakes to the faint stirs of her crying baby. Bottle in hand, she tiptoes to the other side of the house, sneaks up to the crib, looks in. A wave of panic grips her as her real nightmare begins. Inside the crib, there is no baby.
Cliffhanger by Amy Saunders
FREE -
Amazon
and
Barnes and Noble
Making her grand re-entry into Portside, Rhode Island, Belinda Kittridge expected fun, sun, and sugar cookies.
Instead, she gets one jilted lover braced for round two, an old rival on the hunt, and the murder of a former classmate and friend. Even worse, Belinda must return to the events surrounding a tragic sailing accident to set things right.
But new possibilities emerge in the form of security expert Bennett Tate. Between her connections and his know-how, they're bound to catch the killer - and kick the skeletons out of the closet for good.
Auf'd by Amy Saunders
$2.99 -
Amazon
and
Barnes and Noble
Lending a hand to a charity fashion show sounded like such fun. Now if only Belinda's idea of a good time included a smothered designer and trouble with Bennett.
While Belinda balances opening a business and a house reno, haute couture Portside-style lands her in one hot mess of runway intrigue and man drama.
It seems not everyone at this show is what they claim to be - or even who.
Drive-Bye by Amy Saunders
$2.99 -
Amazon
and
Barnes and Noble
Belinda's recent blunders have come back to bite her - and Bennett - in the monster cupcake. But they're not the only ones with problems.
A car crash uncovers the body of an unlikely murder victim. But the more they learn about her, the more the answer to her death seems to lie in issues that reach far beyond Portside.
As the truth comes out, and Belinda's personal life teeters on the breaking point, she takes life by the maraschino cherries, and finds help in unexpected places.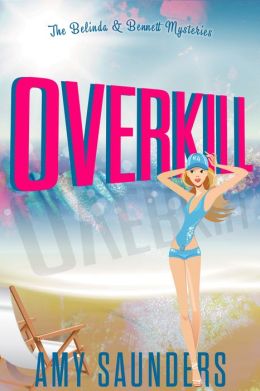 Overkill by Amy Saunders
$3.99 -
Amazon
and
Barnes and Noble
Summer in Portside: The beach! The gelato! The murder...
Belinda's peace from scandal and her grandmother is short-lived when a painting - and then a body - wash up on her favorite beach. As she and Bennett team with Det. Jonas Parker to figure out how the two connect, a possible art forgery comes to light - and another victim.
Belinda continues to grow into her new role as a part-time amateur detective, swimming through suspects and broken connections, while Bennett starts to rebuild his life, and Jonas breaks free from work to pursue a potential new romance.
With the heat of summer upon them, the future is more unpredictable than ever.
The Holly & The Ivy by B.C. Deeks
$2.99 -
Amazon
and
Barnes and Noble
Police Officer Joey Frost has her hands full this Christmas in Carol Falls, Vermont. A vandal is painting the town red, green and every color in between, plus someone left baby Holly in the manger of the town's Nativity display and no one has a clue where her mother is. But Joey can handle it all . . . until a snow storm blows Noel "Fletch" Fletcher back to town.
Joey and Fletch have a history. But he's no longer the cute boy who kissed–and–dismissed her in high school. He's grown into a dangerously attractive man—who also nabbed the promotion Joey was gunning for. When the Police Chief assigns them to work together, Fletch's "by–the–book" law enforcement style is almost as irritating as the resurfacing of their old attraction. Is Fletch trying to distract her from her career aspirations? Or is true love going to be her surprise Christmas gift this year?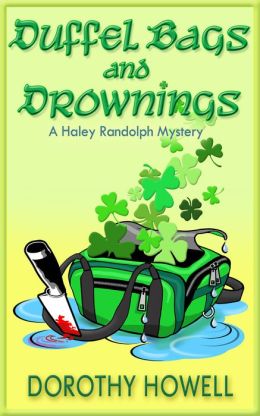 Duffel Bags and Drownings by Dorothy Howell
$4.99 -
Amazon
and
Barnes and Noble
Fashionista and event planner to the stars Haley Randolph is staging a St. Patrick's Day bash for one of Hollywood's biggest couples. When she visits the catering company to check on preparations, it looks like the green ice sculptures will be the hit of the party -- until Haley finds a server floating face down in the water tank.
Haley becomes the prime suspect in the murder. With a killer -- and a giant leprechaun -- on the loose, she must do some fast sleuthing to find the pot of gold at the end of this rainbow. Will she kiss the Blarney Stone -- or the hot new detective on the case?
Haley will need the luck of the Irish to find the killer -- and the hottest handbag of the season!
Fanny Packs and Foul Play by Dorothy Howell
$4.99 -
Amazon
and
Barnes and Noble
Amateur sleuth Haley Randolph returns in a hilarious novella from mystery author Dorothy Howell.
Fashionista and event planner to the stars Haley Randolph thinks the Thanksgiving Day feast she's organizing for the wealthy young owners of the Pammy Candy Company at their Calabasas mansion will be easy—until the hostess is pushed to her death from a second floor balcony.
Money-hungry relatives expecting to dish up a share of the candy company profits, an ex-lover, and a family secret make a tempting recipe for murder. It's a feast of suspects as Haley gobbles up clues that threaten to turn this warm, welcoming occasion into cold leftovers—but with private detective Jack Bishop in charge of the investigation, things heat up fast.
Haley searches for the designer handbag of her dreams—but finds a hot new attorney instead—and a killer who knows revenge is a meal best served cold!
Bonus content! Includes an excerpt from another Haley Randolph mystery, as well as one of the historical romances Dorothy writes under the pen name Judith Stacy.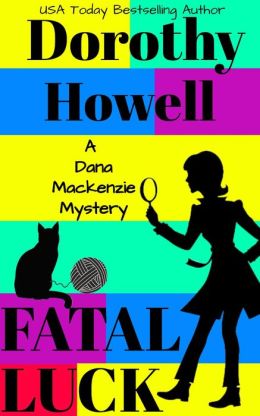 Fatal Luck by Dorothy Howell
$4.99 -
Amazon
and
Barnes and Noble
Dana Mackenzie is back! The newest sleuth from the author of the hilarious Haley Randolph mystery series returns in a new novella!
Dana Mackenzie thinks it's her lucky day when she misses witnessing a fatal hit-and-run, but she soon learns this was no accident.
Dana's high school crush, Homicide Detective Nick Travis, is on the case. Dana insists their budding romance won't go anywhere until Nick confesses the sordid details of what happened back in high school between Nick and Dana's then-best friend. But is this dark secret from their past something Dana really wants to learn?
As Dana tracks down a cold blooded murderer, she must also deal with corporate scams and the ultimate betrayal in her own family. Her high school days come back to haunt when her luck takes a fatal turn and the killer comes after her!
Organized for Homicide by Ritter Ames
$3.99 -
Amazon
and
Barnes and Noble
Organization expert Kate McKenzie is looking forward to her newest consignment: organize the cross-country move for a divorced father and his two children. But when a dead body turns up, Kate's carefully organized plans are thrown into chaos. Was it an accident? Or murder? Kate aims to find out and ends up falling more emotionally involved than she'd expected when the victim's teenaged daughter becomes the police's lead suspect. As a mother herself, she just can't let the girl not only lose a mother but possibly lose her freedom and future as well. While the police follow the chain of evidence, Kate follows her gut, leading her on a dangerous investigation that could result in more than one death if she doesn't watch her step...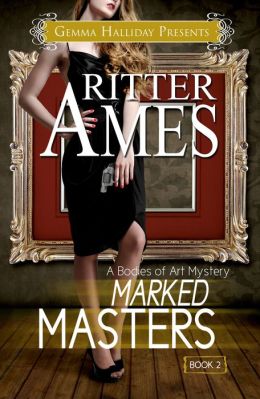 Marked Masters by Ritter Ames
$0.99 -
Amazon
and
Barnes and Noble
Laurel Beacham made working solo a habit and a personal success story. The world's leading art recovery expert, she is known for her nerve, instincts, and the ability to do whatever it takes to bring each masterpiece back safely. Museums applaud her while thieves admire the cunning way she operates. No matter the odds against her, she listens to her instinct when challenges mount.
Right now, those instincts are screaming a warning.
Laurel's last job landed her the head position over the London branch of the Beacham Foundation. All well and good, except bringing one case to a close only opened another even bigger one. And more importantly, the new case inextricably connects to Jack Hawkes, a man smart enough to be her equal, but one who keeps her trust meter hovering in the red zone. The pair leap headlong into a plot that gets more dangerous and illusive by the minute. As the bodies and forgeries add up and the clock counts down, will Laurel's skills help her make it out of this job alive?
January Jinx by Juliet Kincaid
$3.99 or FREE for Prime Members -
Amazon
January Jinx, Book One of the Calendar Mysteries
From January through December, the Calendar Mysteries tell the story of Minty Wilcox and Daniel Price from newly met to newly wed and beyond.
The first chance Minty Wilcox gets in January 1899, she sets off to find a stenographer's job in Kansas City. But her search is jinxed from the start.
First, a soldier named Hanks falls backward down the steep Ninth Street Incline, site of the cable car line. Next, Clayton Cole, an old man with a gun and a badge, accuses Minty of murdering the soldier. Then Cole chases Minty away before she can find out if Hanks is alive, dying or dead.
On Minty's way home, a young, bearded stranger approaches her. Though he turns out to be her mother's prospective boarder, Daniel Price stays a mystery in other ways. For instance, what was he really doing next door inside the house of the nosy Miss Agnes Shackleton?
Minty barely has time to tell her mother about her jinxed morning when Miss Shackleton shows up and repeats malicious gossip about the Wilcox family. She even threatens to run the Wilcoxes out of the Quality Hill neighborhood.
Before Mama can get rid of Miss Shackleton, who should show up but Clayton Cole, demanding the steep sum of one hundred dollars to forget what he claims he saw Minty murder Soldier Hanks.
So there's nothing for Minty to do but set aside her search for employment and go looking for Soldier Hanks. At Mama's insistence, Daniel Price escorts her. Talk about nosy! Why else does Price keep showing up wherever Minty goes? Why else would he sneak into her room and look at her diary? (Thank goodness, she writes her installments in shorthand.)
In spite of her efforts to clear her name, eventually bad luck spreads like a nasty cold from Minty to her entire family and to Mr. Daniel Price as well. Minty feels that she brought all these troubles to her family and friends, so she must set things right.
This won't be easy in Kansas City where, a hundred years ago, living could get downright deadly.
Appraisal for Murder by Elaine Orr
$2.99 -
Amazon
and
Barnes and Noble
If your name translates to "pretty nice" in French, you've probably gotten used to teasing. It doesn't prepare you to find out that your soon-to-be-ex-husband has a gambling problem, raided your assets, and embezzled from his bank. Jolie Gentil moves to Great Aunt Madge's bed and breakfast at the Jersey shore, taking her cat Jazz, and joining Madge's pair of prune-eating dogs. Jolie does not view this as a retreat, just a smart change. She had no idea her life was about to get even more complicated.
Jolie settles into the rhythm of late fall in a beach town and finds a work as a real estate appraiser with Aunt Madge's friend Harry Steele. But a low-life named Joe Pedone demands that Jolie repay some of her husband's gambling debts and she runs into Michael Riordan, her high school crush -- she's not sure which one is more trouble. Michael's good-looking but arrogant, and when she appraises his mother's house and finds Mrs. Riordan dead in bed she's not sure what to think.
At the Riordan home after the funeral, Jolie becomes begins to think that Aunt Madge is right -- Michael couldn't have murdered his mother. The police disagree. His mother's death leaves him as owner of the house, adding greatly to the wealth of the estate he is to inherit. After the funeral they arrest Michael.
Soon, the mundane work of appraising real estate and dodging suggestions that she go to the 10-year high school reunion become mixed with calls from reporters, scary suggestions from Pedone, and requests that she help the local busybody with First Presbyterian's social services work. Jolie also runs into Scoobie, the high school friend she hung out with most. With his blue jeans and longer hair, he's the antithesis of oil company executive Michael, and much easier to be with. His haunting poetry reflects how different his life has been since Jolie knew him.
Scoobie cuts Michael no slack. Still, with Aunt Madge upset that her late best friend's son stands accused of murder, Jolie looks for indications he's not guilty. Michael, out on bond, insists that Jolie leave his defense to his lawyer. If only she could.
Jolie takes Aunt Madge's dogs for a run on the boardwalk and runs into Pedone, who has Jolie's roughed-up ex-husband, Robby, in tow. Pedone wants his money, but the exuberant dogs call attention to Pedone's threats, so the thug leaves Robby with Jolie and Scoobie. He warns he'll be back.
Jolie balances her fear of Pedone, conviction that Michael is innocent, and sometimes uneasy friendship with Scoobie. Her growing list of other possible murder suspects includes Michael's soon-to-be-ex wife and a couple other beneficiaries of Mrs. Riordan's will. Those suspicions don't include Scoobie, but he makes it to the police department's list. Jolie plots other ways to prove both friends innocent. But will Pedone's plans leave Jolie alive to find the truth?
Rekindling Motives by Elaine Orr
$2.99 -
Amazon
and
Barnes and Noble
Jolie Gentil is appraising the vacant Tillotson-Fisher house and finds the skeleton of Richard Tillotson hidden in an antique attic wardrobe. He vanished just after his sister married his business partner in 1929. Jolie sees a link to the Fisher family's Prohibition era business and works with friends Scoobie and Ramona to gather clues from old photo albums and ledgers. The present day murder of Richard's former girlfriend, Mary Doris, tells them they're on the right track. Did the secret she kept all these years finally kill her? Between running the food pantry at Christmas time and escaping a burning building, they hope to figure out who the modern killer is before someone else gets hurt.
When the Carny Comes to Town by Elaine Orr
$2.99 -
Amazon
and
Barnes and Noble
Though she never liked the idea of sitting on the plank above the dunk tank for the food pantry's fundraiser at the carnival, Jolie never dreamed what Scoobie saw that day would leave him battling for his life. Scoobie's ex-con mother shows up and there's a murder to add to the mix. Soon Jolie is doing a lot more than appraising real estate, though even that is complicated by home burglars. Jolie grudgingly seeks help from her nemesis--reporter George Winters--and tries to stay a step ahead of a kidnapper and murderer so she can take charge of her world again. Can she keep her friends safe, and will Scoobie recover enough to plan another silly fundraiser?
Any Port in a Storm by Elaine Orr
$2.99 -
Amazon
and
Barnes and Noble
Someone is breaking into the houses Jolie appraises. When she realizes a new face in town is leading high school kids into trouble in those houses, Jolie's mad and lets him know it. Hayden offers to help her mind her own business, and a lot of people at the Talk Like a Pirate Day fundraiser for the food pantry hear her give him what for.
A hurricane's on the way to disrupt Talk Like a Pirate Day. When a corpse turns up under the pirate ship the next day, Jolie's looking like a suspect.
Soon she has less work. Who wants a possible murder suspect appraising their house? Scoobie's pirate limericks can't solve a crime, so Jolie and her sometimes buddy local reporter George Winters look for the murderer and try to figure out who's trying to frame Jolie. They need to stay ahead of whoever's mad at her and off the radar of the local police who tell Jolie -- for the hundredth time -- to butt out. All this and Jolie has to deal with Aunt Madge's blossoming love life. And what about her own?
For a cozy mystery with a dose of humor and a touch of romance, join Jolie and friends in Ocean Alley.
Trouble on the Doorstep by Elaine Orr
$2.99 -
Amazon
and
Barnes and Noble
From Hurricane Sandy to Cozy Corner B&B repairs to Aunt Madge's wedding in three weeks. If Jolie can handle that surely she can deal with a sobbing woman who shows up at midnight playing a scary message on a cell phone. Pooki is frantic about her husband's whereabouts and more than a little 'ditzy,' according to Jolie's best friend, Scoobie. After taking Pooki to the police station the next morning, Jolie figures she is problem-free. Not really.
A shady deal for storm repairs at the Ocean Alley Senior Complex seems to be at the root of Steve Oliver's hit-and-run death and missing business partner (Pooki's husband, Eric). When Eric ends up dead at the B&B, Jolie is digging for clues in between burning muffins and appraising houses. But when she doesn't share all that she learns with her sometimes-boyfriend, reporter George Winters, he's grouchy.
Jolie is convinced she needs to find the murderer (or is it murderers?) and expose fraudulent repair bids. Not everyone shares her views--not the police, her friend Scoobie, and certainly not the murderer.
Behind the Walls by Elaine Orr
$2.99 -
Amazon
and
Barnes and Noble
Behind the Walls
has been through three rounds of judging and is a finalist in the 2014 Murder and Mayhem Awards! Chanticleer Book Reviews will announce the winner in March 2015.
There's something hidden behind the walls of the hurricane damaged house Jolie bought in her New Jersey beach town. Something someone seems willing to kill for. After Jolie and Scoobie find a small sack of jewelry as they do a mold attack on her bungalow, Jolie is pursued by a purse thief and a burglar. But the guy she's most worried about is the one who left an elderly auctioneer dead on her porch swing. In between appraising houses and planning a fundraiser for the food pantry (can you say liquid string contest?), Jolie tries to figure out if there is more stolen bounty around town. Is the feared killer the same person who burned some vacant houses, or the as-yet unmasked Peeping Tom? And are they willing to kill again to get to the hidden riches?
Her friends and local police warn her to butt out, but that's just encouragement for a woman who likes to get to the bottom of things. Jolie wrestles with fear as she tries to get her cat, Jazz, to feel at home in the new house. Maybe an unexpected visitor can be a substitute for Aunt Madge's golden retrievers.
And then there's her love life. Jolie also needs to decide if she really wants to get back with her former boyfriend, Ocean Alley Press reporter George Winters. Or are feelings for someone else trying to get her attention?
Vague Images by Elaine Orr
$2.99 -
Amazon
and
Barnes and Noble
Now with the first Chapter of
Ground to a Halt
(available late December)
Bad enough that Jolie ends up in the emergency room because she tried to avoid hitting a deer. Worse to find a dead woman in the hospital restroom after Jolie gets patched up. As the chief budget cutter at the hospital, Tanya Weiss was unpopular, especially in the Radiology Department, where Scoobie works.
In between appraising houses and feeding her pet skunk, Jolie's on the lookout for a runaway teenager and whoever planted the dead woman in her path. Thanks to Scoobie, she's also planning another crazy fundraiser for the food pantry--this one a Corn Hole Contest. It's sort of a bean bag game for grown-ups, and the polite term is Corn Toss Contest. So of course, Scoobie prepares to name winners in the Harvest for All Corn Hole Contest.
Just when Jolie's ready to leave the murder investigation to the police, she gets a surprise--and it's not a good one.
Ground to a Halt by Elaine Orr
$2.99 -
Amazon
and
Barnes and Noble
When Jolie Gentil goes to buy a cup of coffee the morning after a storm knocks out power at her house in Ocean Alley, she finds Java Jolt unlocked and minus its owner. A bigger surprise is seeing proprietor Joe Regan a few minutes later, badly injured. It seems a potential killer thinks Jolie has something Joe was hiding. The normal routine of appraising houses and volunteering at the Harvest for All food pantry is interrupted by an SUV that nearly smashes Jolie, a break-in at the home Jolie and Scoobie share, and a terrifying kidnapping. Jolie needs to figure out who's telling the truth and how far the thugs will go to to find what they want. Only solving the puzzle will keep Jolie safe, protect a vulnerable Iraqi vet, and make sure everyone stays alive. But if Jolie keeps searching, her budding romance with Scoobie may grind to a halt.
Two Widows and the Thrift Store Murders by Ruth Ross
$2.99 or FREE for Prime Members -
Amazon
As the first in the Two Widows Mystery Series by Pacific Northwest writer, Ruth Ross., Two Widows and the Thrift Store Murders is a humorous and touching tale of murder, mayhem, and great bargains.
Widow Millie Mahoney is a dabbler. She dabbles in all sorts of things: art, writing, politics, and sometimes employment. Unfortunately, nothing captures her attention for long, at least not until she finds herself dabbling in murder.
Millie's mother, Margaret Cisneros is also a widow, but she doesn't dabble like her daughter. Instead, she quilts. She's also the voice of reason with her occasional efforts to keep Millie on track and the dog out of trouble. But even Margaret can't resist going along on this particular shopping trip.
Join the Two Widows as they find more than they bargained for at the local charity thrift store.