Picture Perfect Love: A June Wedding Story by Melissa McClone
$3.79 to $3.99 -
Amazon
and
Barnes and Noble
- COMING MAY 26, 2015 - Preorder Today!
Meet the people who make it all happen – the planners, the photographers, the musicians who have helped orchestrate the perfect day for countless couples as they find their own happy endings in the second Year of Weddings novella collection.

When image becomes everything, it's up to love to refocus the heart.
Photographer Jenna Harrison wants every bride and groom to look picture perfect on their special day, putting her heart into every wedding to give the couple memorable images of their love. But her own heart is still broken, the unworn wedding dress hanging in her closet a reminder that relationships aren't always as perfect as they look through her camera lens. But Jenna has faith that she will find true love. Until then, she must be patient and trust in God's plan and His perfect timing.
Attorney Ashton Vance is the one that got away. When an embarrassing Photoshopped picture of put an end to his political aspirations, he blamed Jenna. So what if the photo led to his being offered a dream job and changing his life for the better? Jenna betrayed his trust, and two years later, Ashton's heart still hasn't recovered.
It was me. His younger sister's three words turn Ashton's world upside down. He must ask Jenna's forgiveness, but can he risk his heart a second time? Even if Jenna can forgive him, dare he hope for a second chance at her love?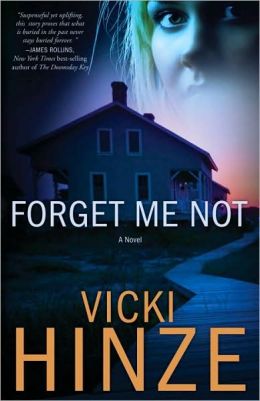 Forget Me Not (Crossroads Crisis Center Book 1) by Vicki Hinze
$7.99 to $9.99 -
Amazon
and
Barnes and Noble
THEIR ELUSIVE ENEMIES TOOK EVERYTHING. NOW THEY WANT MORE.
Crossroads Crisis Center owner Benjamin Brandt was a content man—in his faith, his work, and his family. Then in a flash, everything he loved was snatched away. His wife and son were murdered, and grief-stricken Ben lost faith. Determination to find their killers keeps him going, but after three years of dead ends and torment, his hope is dying too. Why had he survived? He'd failed to protect his family.
Now, a mysterious woman appears at Crossroads seeking answers and help—a victim who eerily resembles Ben's deceased wife, Susan. A woman robbed of her identity, her life, of everything except her faith—and Susan's necklace.
The connections between the two women mount, exceeding coincidence, and to keep the truth hidden, someone is willing to kill. Finding out who and why turns Ben and the mystery woman's situation from dangerous to deadly. Their only hope for survival is to work together, trust each other, and face whatever they discover head on, no matter how painful. But will that be enough to save their lives and heal their tattered hearts?
Deadly Ties (Crossroads Crisis Center Book 2) by Vicki Hinze
$11.84 to $13.99 -
Amazon
and
Barnes and Noble
HER ENEMY WILL STOP AT NOTHING FOR CONTROL…
SHE WILL RISK EVERYTHING FOR FREEDOM.
A horrific crime shatters Lisa Harper's idyllic childhood. Her father is dead and her desperate mother, Annie, quickly marries Dutch Hauk, an abusive monster who soon reveals his hatred for Lisa. To protect her, Annie defies her ruthless husband and forfeits custody to a trusted friend. Enraged, Dutch vows to keep Annie and Lisa apart—and he does. Years later, though keenly aware of Dutch's evil intent, Lisa and her mother seize a chance to be a family, safe in a home where love dwells. But they fail to fathom how far Dutch will go to keep his vow.
Determined to control his women, Dutch proves resourceful. His associates in crime are feared at the highest levels across the globe—and for Lisa they plan a fate worse than death. Yet she too has formidable connections, including former Special Operations Officer Mark Taylor. Burdened by his own traumatic past, Mark has loved Lisa from afar. Now, for Lisa and her mother to survive, Mark must risk his life—and even more difficult for him, he must trust God. All as one question haunts them: Can Mark and Lisa untangle these deadly ties before it's too late?
Not This Time (Crossroads Crisis Center Book 3) by Vicki Hinze
$7.99 to $9.99 -
Amazon
and
Barnes and Noble
Small town scandal. International terrorist attack. Who among them is the traitor?
Sara and Beth have built a multi-million dollar business together, but their once solid friendship is now strained. Beth is leery of Sara's husband, and when he is kidnapped, authorities consider Beth their prime suspect.
Then, their small town of Seagrove Village is rocked by an act of terrorism, and Beth doesn't know who to trust. Someone she knows is linked to the attack, but who? Is there a connection to Crossroads Crisis Center? In the midst of the confusion and fear, Beth finds herself attracted to a man from her past. She knows she shouldn't fall in love with him, but she can't resist or even explain their bond. As her world unravels around her, she wonders, is it possible to be beyond redemption?
Survive the Night (Lost, Inc. Book 1) by Vicki Hinze
$3.49 -
Amazon
and
Barnes and Noble
After losing everything, Della Jackson tries to begin again as an investigator. But she can't forget the past…and neither can someone else. Someone who won't let anyone—even Della's best friend, former special operative Paul Mason—stand in the way. As Della is stalked and those closest to her are targeted, both Della and Paul realize there's only one way to survive. They each have to face their greatest fears, overcome the scars of the past and dare to love again…before it's too late.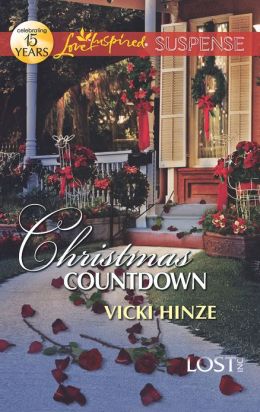 Christmas Countdown (Lost, Inc Book 2) by Vicki Hinze
$3.49 -
Amazon
and
Barnes and Noble
A simple trip home for the holidays is all former FBI profiler Maggie Mason wants. But a serial killer has other plans. Trapped in a deadly game of cat and mouse, Maggie finds an ally in Lost, Inc. with private investigator Dr. Ian Crane. The handsome widower is reluctant to love again, and the last thing Maggie wants is to put Ian in the line of fire, too. Love could cost them
everything…
unless they can find their way to each other, in time for Christmas.
Torn Loyalties (Lost, Inc. Book 3) by Vicki Hinze
$3.49 -
Amazon
and
Barnes and Noble
Madison McKay doesn't trust anyone. The former military woman and owner of Lost, Inc., learned about betrayal the hard way, in work
and
in love. That's why she'd never let herself fall for ex-military special investigator Grant Deaver. Yet when Madison is framed for a security breach at a top secret military facility, she's forced to put her life in Grant's hands. But after she discovers that he's been deceiving her, everything will be torn apart unless Grant can convince her to trust him with her life…
and
her heart.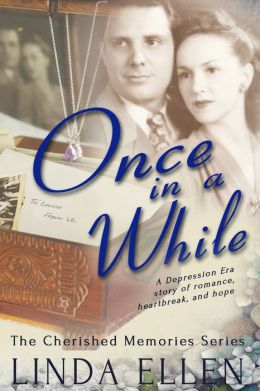 Once in a While (The Cherished Memories Series, Book 1) by Linda Ellen
$0.99 to $2.99 -
Amazon
and
Barnes and Noble
In the tradition of The Notebook comes...Once in a While.
Victor Matthews is a down on his luck young man, frustrated with his life and his inability to find gainful employment.
Louise Hoskins is a young woman content in her life with her family and friends. Her biggest concern is her upcoming lead part in a play.
One rainy night, they meet...and both are forever changed.
Neither could foresee that the world as they know it is on the precipice of experiencing the now famous '37 Flood, and that daily life is about to be transformed into a bone chilling waterlogged state of affairs. But as that harrowing experience fades and their lives return to normal, the two young lovers embark on an unforgettable courtship - that is, until a terrible argument and a tragic misunderstanding tear them apart. How will they survive the separation? And why does one special song have the power to instantly transport the sweethearts back into the realm of cherished memories? This is a sweet and clean Southern historical romance set during the Depression Era.