Paradox - The Angels Are Here by Patti Roberts
Two mysterious strangers arrive just in time to help Grace Connors as she struggles to cope with the death of her father. But are the intentions of these strangers as innocent as they first seem, or is something far more sinister on their agenda?
Meanwhile, in a faraway realm, a race of fallen Angels clash with a ruling house of Angels. Their battle changes events in the Ancient World and the New World forever. A realm where a year can last centuries and an ancient, magical people still rule... A realm where even the immortals face danger.
A story that will indeed leave you asking... Who, When, Where? WHAT!
My name is Juliette. Nine hundred years ago, I died. Today, I am alive... This is my story.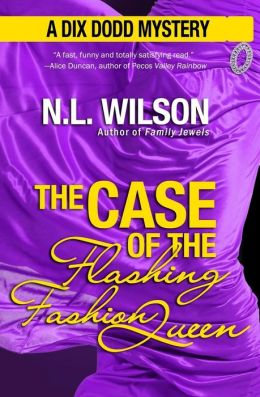 The Case of the Flashing Fashion Queen by N.L. Wilson
Regularly $3.99
Tired of getting no respect at the big P.I. firm where she's worked for years, Dix Dodd has hung out her own shingle at the ripe age of 40. There are plenty of cheating husbands to go around, and Dix has a knack for busting them. Problem is, it doesn't always pay so well. Conscious that the guys back at the old firm are laying bets about how soon she'll come crawling back, she figures she's got six months to make a go of it. The going gets even tougher when she hires Dylan Foreman. But when he told her about getting fired from his law firm and disbarred for putting common decency before the firm's interests, she hired him on the spot. In addition to being smart, he's gorgeous enough to remind her she's a woman. And at 28, young enough to make her feel like a total cougar. Things start looking up when Dix gets hired by millionaire businessman Ned Weatherby's wife Jennifer Weatherby, to tail Ned 24/7 for a week, for a cool ten grand. Easy-peasy, right? Wrong! The job lands Dix in the middle of a murder investigation – with her as the prime suspect and her arch-enemy Detective Richard Head (a.k.a., Dickhead, one of the cheating husbands she'd nailed) gunning for her. Dix will need all her ingenuity, as well as the help of Dylan and her oddball cast of supporters to extricate herself from this one.
Tin God by Stacy Green
Regularly $5.99
The truth can be as deadly as any weapon.
Jaymee Ballard trusted only one person in Roselea,Mississippi with the secret of her lost daughter. When that person is brutally murdered, it leaves her with heartbreak and a slew of unanswered questions. The eerie similarity to a murder of one of Jaymee's close friends years ago causes her to realize her past has come back to haunt her and may cost her own life.
Years of deception and abuse leave Jaymee with few options and fewer allies. She turns to the widower of her friend—a man struggling with his own demons—to help her find her daughter and identify the killer before he strikes again.
Before all evidence, the truth—and Jaymee's daughter—are lost.