Just One Taste by Maggie Robinson
$0.99 -
Amazon
and
Barnes & Noble
From the author of the Ladies Unlaced series and 2-time RT Reviewers' Choice nominee: Just One Taste, a romance anthology. Ten never-before-published novellas and short stories span the centuries and genres. 110,000+ words.
The novellas: A time-traveling, telekinetic hero must change a small town's history book or lose the librarian love of his long life. An eighteenth century warlock's widow finds the spell for true love and un-immortality with the help of a hot twenty-first century skeptic. A novice shape-shifting panther discovers his reluctant life mate on a secluded Maine island. A suburban Connecticut divorcee's high school nemesis heals her heart. And a dominant viscount finds a remarkably submissive wife in Regency England. Plus five sexy, fun historical short stories.
Close Encounters: The football captain and the cheerleader, ten years later/contemporary novella, 18,000 words
Diamonds are Forever: Marry in haste, repent and renew at leisure/ historical short story, 6,000 words
Joyeux Noel: Two Scots far from home find something to celebrate/historical short story, 1,000 words
A Christie Christmas Kiss: Sometimes duty is a pleasure/historical short story, 1,100 words
The Proposal: All you need is nudge/historical short story, 1,000 words
Compromised: The best presents aren't under the tree/historical short story, 1,500 words
Spellcheck: Eternal youth is vastly overrated/paranormal contemporary novella, 25,000 words
The Catalyst: Getting in touch with the beast within/paranormal contemporary novella, 22,000 words
Out of Time: Last chance for romance/paranormal contemporary novella, 22,000 words
The Honeymoon: When dark desires are just the right color/ historical erotica novella, 15,000 words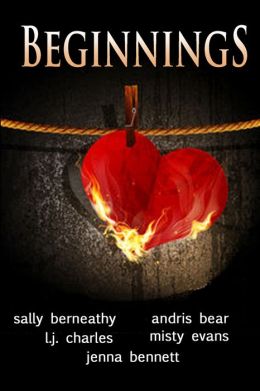 Beginnings by Various Authors
$0.99 -
Amazon
and
Barnes & Noble
The best journeys start with a great beginning...
These five exciting stories are the first episodes in our new adventure serials. They are our invitation for you to explore the rest of the story.
SECRETS RISING – Sally Berneathy
Murder, deception and romance as long-buried secrets rise from the past.
LOVERS LANE – Andris Bear
When the law can't touch a vicious criminal preying on young women, one takes justice into her own hands.
THE FOOL - L. J. Charles
Caitlin Connor's destiny is to stand for truth and justice. Although new to her Wiccan gifts, she must use them to find a killer and free her friend from jail.
WITCHES ANONYMOUS – Misty Evans
Can a bad witch go good in thirteen steps? Not if Lucifer has his way with her.
FORTUNE'S HERO – Jenna Bennett
To ensure their survival on a hostile planet, an escaped prisoner and his hostage must forge a partnership that changes them from enemies to reluctant allies and – eventually – to lovers.
When I Found You by Peggy Webb
$0.99 -
Amazon
and
Barnes & Noble
Her Secret Hero: When the past threatens to steal her child, this single mom never expected her hero to be a wounded soldier living in shadow. Poignant with lovely dashes of humor, this story will haunt you for a long time to come.
Indiscreet: Can an unexpected May/December romance overcome the disapproval of the heroine's teenaged daughter and the sudden shock of devastating news? A beautiful, timeless love story that will have you reaching for tissue!
From A Distance: One woman, two brothers, and the man whose dark obsession threatens to destroy them all. This poignant tale of love and betrayal brings both laughter and tears.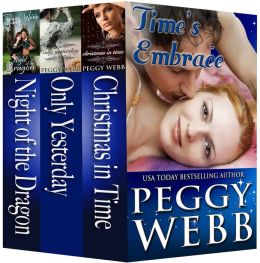 Time's Embrace by Peggy Webb
$0.99 -
Amazon
and
Barnes & Noble
Three delicious heroes + three sassy heroines = one great read!
Christmas in Time (Prequel to Only Yesterday): An unconventional young woman and an irresistible musician + the voyage of a lifetime = an unforgettable love.
Only Yesterday: A feisty artist and a sexy pilot/polo player + the dream-filled attic of Windchime House = a love that transcends time.
Night of the Dragon: One sassy, California bookseller and a magic ring + one sexy Knight and his tame wolf = more complications in Camelot than King Arthur allows!
Deadly Dozen 3 by Various Authors
$0.99 -
Amazon
and
Barnes & Noble
LIMITED EDITION BOXED SET
More than 120,000 readers devoured New York Times and USA Today Bestseller Deadly Dozen and Deadly Dozen 2 and clamored for more. Now, The Twelve presents Deadly Dozen 3!
800+ reviews. 12 books. 12 award-winning, USA Today and New York Times Bestselling Authors you know and love. 1 guest author.
___
False Truth 7: A Jordan Fox Mystery (Hunt for Truth Series)
Diane Capri (with Beth Dexter)
Rookie TV Reporter Jordan Fox agreed to a blind date with the owner of a trendy new craft brewery. When she sees another guy sitting at the bar slip a roofie into his date's drink, Jordan goes full-out to prevent the sexual assault, but now she's targeted by grownup geeks flying dangerous drones with deadly intent. Jordan can run, but can she escape from eyes in the sky who mean to kill her?
___
Darkness on the Edge of Town (Laura Cardinal Thriller)
J. Carson Black
In a runaway case that propels Laura Cardinal, Arizona DPS Criminal Investigator, from a lavish Tucson estate to the secretive heart of a northern Florida town, she must confront the ghosts of her own past. Then another child goes missing—and Laura must race the clock to find her.
___
A Touch of Revenge (Nick Bracco Series)
Gary Ponzo
FBI agent Nick Bracco heads an elite group of anti-terrorist specialists known as The Team. When his team members start showing up dead, Nick suspects a Kurdish terrorist who has revenge on his mind.
___
Covert Reich
A.K. Alexander
In a race against good versus true evil, Dr. Kelly Morales, Gem Michaels, Dr. Ryan Horner, and Detective Tony Pazzini search to uncover the truth and expose it behind the deaths and murders that make up Project Covert Reich.
___
Chase Baker and the Golden Condor (Chase Baker Series)
Vincent Zandri
Chase Baker, the Renaissance Man, seeking inspiration for a new book, and a big pay-off, stumbles into the opportunity of a lifetime: to use his PI and archeological sandhogging skills to seek out an aircraft hidden deep in a remote part of the Amazon Jungle.
___
Sweet Dreams (Mark Appleton Series)
Aaron Patterson
Mark Appleton will stop at nothing to hunt down the men responsible for the death of his family and what he finds will change his life forever.
___
Echoes of Murder (Til Death Do Us Part Series)
Cheryl Bradshaw
When two women with no apparent connection are found dead at the same wedding, medical examiner Reagan Davenport will stop at nothing to discover the identity of the killer ... even if it means untangling a deadly web of lies she'll live to regret.
___
The Accidental Healer
Joshua Graham
After washed up CEO Dave McKenzie loses his job, his wife and kids leave him, he decides to end it all. Only to find a destiny he never expected. And for once in his life, it's not all about himself.
___
Poe (Alexandra Poe Series)
Brett Battles & Robert Gregory Browne
Desperate to locate her father—who's been disgraced and accused of treason—Alexandra agrees to run point on a dicey mission to acquire a fugitive that will take her behind the walls of a brutal and dangerous women's prison.
___
The Organization (Jack Sheridan Series)
Allan Leverone
Killers, rapists,and sociopaths, men and occasionally women with no regard for even the most basic rules of civilized society, face a deadly fate: The Organization, a secret band of assassins working to protect the very society that shuns them, by eliminating the most dangerous predators.
___
Dead Shot
Jack Patterson
When three athletes are found dead in a 24-hour period in a small town, reporter Cal Murphy uncovers a twisted web of crime, deceit and conspiracy. With a mastermind determined to silence him, Cal must decide if reporting the truth is worth his life.
____
Night Game (The Night Series)
Carol Davis Luce
When the King's Club resort casino becomes the hunting ground for a shadowy killer, owner Jay King places his bets on PI Kasey Atwood's talents, instigating a game of passion.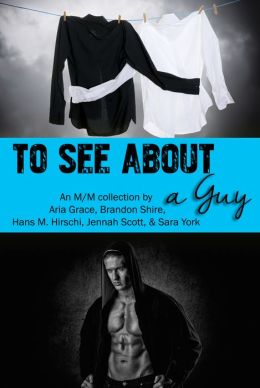 To See About a Guy by Various Authors
FREE -
Amazon
and
Barnes & Noble
A collection of M/M novels by Aria Grace, Brandon Shire,Hans M. Hirschi, Jennah Scott and Sara York
Titles include:
More Than Friends by Aria Grace
The Love of Wicked Men Episode 1 by Brandon Shire
Nightmare by Hans M Hirschi
eXtreme Homecoming by Jennah Scott
BONDED By Sara York
These best-selling authors have come together to offer you some sweet romance with some dark edges. The men in this collection love hard and fight even harder for what they need. Whether that's love, friendship or just pure satisfaction, there's something for everyone in To See About A Guy.
More Than Friends Books 1 & 2 by Aria Grace
$0.99 -
Amazon
and
Barnes & Noble
Now you can get Books 1 and 2 of the More Than Friends series in one edition. Don't get caught waiting to buy the next book when you can have it at your fingertips.
In Book 1, Ryan is struggling to get over the break up from his long-term girlfriend. When he finally decides a fling might be exactly what he needs to move on, he expects to find it in a woman. But when he meets Drea's hot cousin, he feels an attraction to Zach that he's never felt before. But Ryan isn't gay.
In Book 2, Ryan and Zach have been together for eight blissful months. Just as they are about to take their relationship to the next level, a visit with Zach's ex changes everything.
For mature readers. Includes an MMM scene.
Enchantment and Taken Box Set by Charlotte Abel
$0.99 -
Amazon
*** For a limited time get Book 1 and Book 2 of The Channie Series in one volume. ***
ENCHANTMENT: Book One of The Channie Series
When Channie Belks moves from her home in the Ozark mountains to a suburban Colorado high school, she tries to hide the fact she's a mage. It might have worked until her parents slapped a chastity curse on her for flirting with "dirty-minded, non-magical, city-boys." She can't even walk by a hot guy without zapping him.
There's a way to break the curse; but one mistake could kill her. It's not worth the risk. Until she meets Josh…a BMX champion with a dazzling smile, washboard abs and the bluest eyes she's ever seen.
Suddenly, the threat of death isn't such a deal-breaker.
TAKEN: Book Two of The Channie Series
Bound by love and magic. Betrayed by those they trust. Not everyone survives.
In this second installment of The Channie Series, Josh and Channie are tested physically and emotionally as the tough choices they are forced to make affect not only their future together but their very existence. The risks are high but the rewards are even higher.
Gasp-out-loud action, heart-pounding romance and an OMG ending that leaves you hungry for the next book.
***WARNING*** The characters in this book swear. They also think about, talk about and sometimes engage in sexual behavior.