Claiming Their Royal Mate: The Collection by Andie Devaux
$0.99 or FREE for Kindle Unlimited Subscribers
**Limited Time Sale - Complete Story, No Cliffhangers!**
Daniella Clark has lived blissfully unaware of her heritage, but as her true nature reveals itself, a need rises that she cannot control. Her sexy-as-sin neighbor, Owen, eases her carnal heat and introduces her to a world she never even suspected existed.
But the weretiger prime, Erick, wants her for his own. And he is more than willing to fight his second-in-command for the woman he claimed the moment he laid eyes on her luscious form. He will do anything to protect his people, and their future rests in Daniella's hands.
Even as Daniella revels in the sensuality of the weretiger males, she fights to maintain her sense of self. But when old enemies arise, the battle for her heart isn't the only fight they must face. And Daniella will have to decide how much she is willing to risk for the men who want her for their mate.
Claiming Their Royal Mate: The Collection
includes all four parts of the sensual, m/f/m series. The story contains steamy scenes with two tiger shifters, a smidgeon of violence, and lots of dirty talk. This book is complete with no cliffhangers. Happy reading!
Hot Flash by Kathy Carmichael
$0.99
What's the recipe for a happy marriage?

That's what chef Jill Morgan Storm wants to know, and according to responses to the "Marriage Satisfaction Surveys" she and her closest friends cooked up, the answer is to marry a traveling salesman who is rarely home.

Calm, Cool and Pre-Menopausal?

And Jill certainly deserves some happiness, after everything she's been going through. Her teen-aged son, who only speaks to her in French, needs college tuition. Her crazy mother is determined to find her a man--and only brings her unsuitable ones. A pesky schoolteacher keeps annoyingly trying to fix her life. She's begun experiencing hot flashes, especially when said schoolteacher is nearby. Her sous chef job is in jeopardy, and, most aggravating of all, her ex-boyfriend has absconded with her favorite skillet.

What's a single mom to do?

Faced with the answers to her surveys, she sets off to find the traveling salesman who can share her dreams. Along the way, can she find herself and a man who will claim her heart?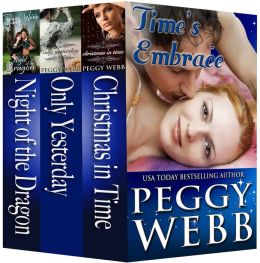 Time's Embrace (A Box Set) by Peggy Webb
$0.99
Three delicious heroes + three sassy heroines = one great read!
Christmas in Time (Prequel to Only Yesterday): An unconventional young woman and an irresistible musician + the voyage of a lifetime = an unforgettable love.
Only Yesterday: A feisty artist and a sexy pilot/polo player + the dream-filled attic of Windchime House = a love that transcends time.
Night of the Dragon: One sassy, California bookseller and a magic ring + one sexy Knight and his tame wolf = more complications in Camelot than King Arthur allows!