Hot Flash by Kathy Carmichael
$0.99
What's the recipe for a happy marriage?
That's what chef Jill Morgan Storm wants to know, and according to responses to the "Marriage Satisfaction Surveys" she and her closest friends cooked up, the answer is to marry a traveling salesman who is rarely home.
Calm, Cool and Pre-Menopausal?
And Jill certainly deserves some happiness, after everything she's been going through. Her teen-aged son, who only speaks to her in French, needs college tuition. Her crazy mother is determined to find her a man--and only brings her unsuitable ones. A pesky schoolteacher keeps annoyingly trying to fix her life. She's begun experiencing hot flashes, especially when said schoolteacher is nearby. Her sous chef job is in jeopardy, and, most aggravating of all, her ex-boyfriend has absconded with her favorite skillet.
What's a single mom to do?
Faced with the answers to her surveys, she sets off to find the traveling salesman who can share her dreams. Along the way, can she find herself and a man who will claim her heart?
Her Wicked Ride by Tilly Greene
$2.99
Brian Mulligan fixes cars. He rides a Harley, is covered in tattoos and has spent time in jail. Since being released he's tried to live a clean life, but he's a bad boy with women, very bad and terribly sexy. Bondage, domination, and so much more, are his preferences when playing with the ladies, and there have been a variety until the last one.
For the first time, he had to work for a yes. All summer, they've had fabulously wild no-holds-barred sex, but one morning everything changes. With chaos in the garage, a cup of coffee in hand, and a half-naked Sherry Gonzales in his lap, his eyes are opened to wanting more with her. Brian's solution is to go on a date, their first date.
The night starts out fine. They get wicked on the back of his bike before the nights takes a turn, but for the good or bad?
Note from Author: Her Wicked Ride, a contemporary erotic romance + D/s and tattoos, is 24k words and this is its first release.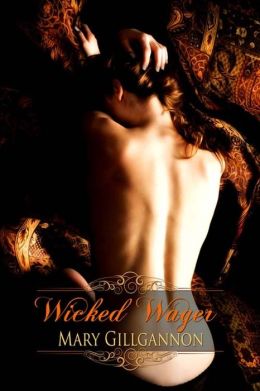 Wicked Wager by May Gillgannon
$5.99
When hardened gamester Marcus Revington wins Horngate Manor in a card game, he's delighted to finally own property, and undeterred when he learns he must marry the heiress of the estate to claim it.
The heiress, Penny Montgomery, is happy with her life raising horses at Horngate and has no desire to wed anyone. When she discovers what her guardian has done, she comes up with a scheme to convince Marcus she's unsuitable as a wife so he'll give up his plan to marry her.
Who will win in this battle of wits and wills? Or will they both discover the name of the game is love?