The Kindling Heart by Carmen Caine
Regularly $2.99 or FREE for Kindle Unlimited Subscribers
(Scotland, 1478) - Ruan MacLeod was through with women. They were nothing but trouble.
Leaving the rash life of his youth behind, he returned to Skye, seeking peace. He never meant to split the clan or start a war with the MacDonald of Duntulm. He certainly never foresaw an arranged marriage to the most scandalous woman in Scotland. Even though she was twice his age, the size of a horse and mother to more than one illegitimate child, he agreed to secure his sister's freedom.
However, even that plan goes drastically awry. On his wedding day, he finds himself faced instead with an enticing, green-eyed lass named Bree. A walking disaster, his bride immediately turns his world into chaos and threatens to melt his resolve never to love again.
Betrayed by her own mother, Bree flees to Skye, thinking only to reunite with her long, lost father. Instead, she finds herself wed to Ruan MacLeod as a replacement bride. When she is forced to remain in the castle, she is soon caught between brothers and the mentally ill wife of the laird.
Shy, yet strong, Bree embarks on a journey of independence and learns along the way that all men are not necessarily evil. In fact, one particularly brooding, yet gentle-hearted warrior is worthy of love, and she soon loses her heart forever.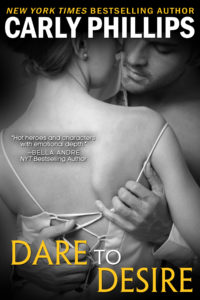 Dare to Desire by Carly Phillips
Regularly $3.99
NY Times Bestselling Author Carly Phillips turns up the heat in her newest sexy contemporary romance series, and introduces you to the Dare family... siblings shaped by a father's secrets and betrayal.
Quarterback Alex Dare, had it all -- an all-star football career and his choice of willing women -- until injury forces him into early retirement. When he is offered a ground-breaking position with a rival team, he's intrigued, but there's a catch. He'll be working alongside the same woman he callously hurt when she got too close for comfort.
Social worker Madison Evans grew up in foster homes and knows what it means to have-not. She isn't impressed by Alex Dare's wealth or charm. Not since she fell hard for him once before, only to discover she was just one of his too-easy conquests. This time around Madison refuses to succumb to Alex so easily.
But Alex wants Madison. And if there is one thing Alex does well, it's to get what he wants. Can he convince Madison to take a risk and dare to love?
Raven's Tale by Jessica McBrayer
Richard Chylton is a man out of time. Appointed as a keep in the Tower of London during the reign of Queen Elizabeth I, he hates what he sees happening to innocents accused of witchcraft. His mother is a midwife, always vulnerable to accusations, and his best friend as a child could make magick. Thorn loved to play tricks to entertain Richard, unknowing what she was and how dangerous her powers could be. She is a natural witch from a long line of powerful women, spirited away for her own safety, to relatives in Ireland when she was five and Richard was eight. But they had a connection that lasted through the years.
Their dreams of each other were really visions and when Thorn realizes that Richard is in danger she returns to London fully aware of the danger that might await her. What is the cost of true love?
Can it really live forever?