Paradox - The Angels Are Here by Patti Roberts
Two mysterious strangers arrive just in time to help Grace Connors as she struggles to cope with the death of her father. But are the intentions of these strangers as innocent as they first seem, or is something far more sinister on their agenda?
Meanwhile, in a faraway realm, a race of fallen Angels clash with a ruling house of Angels. Their battle changes events in the Ancient World and the New World forever. A realm where a year can last centuries and an ancient, magical people still rule... A realm where even the immortals face danger.
A story that will indeed leave you asking... Who, When, Where? WHAT!
My name is Juliette. Nine hundred years ago, I died. Today, I am alive... This is my story.
Witch Sense: Part 1 by Alexis Kade
(Regularly $0.99 or FREE for Kindle Unlimited Subscribers)
All witch Lara O'Connell wanted to do was dump her neglectful boyfriend and get on with her life. But thanks to a show of power he thought would charm her, her ex is stuck in wolf form. And until she turns him back, she's stuck with him shedding all over her stuff.
The local Alpha werewolf, Stephen, will help her turn her ex back into a human—for a price. He needs Lara's sensitivity to magic to figure out who is killing his people.
But with the FBI looking into Phillip's disappearance, an Alpha trying to make kissy face with her, and a killer who can't be too happy to have her on his trail, Lara's problems are just getting started.
Witch Sense: Part One is the first part of the witch sense serial. Please note that parts may contain foul mouthed witches, sexy werewolves, and cliffhangers. All parts will be available through Kindle Unlimited. Happy reading!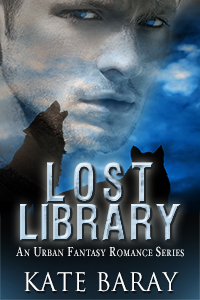 Lost Library by Kate Baray
Lost Library brings together a mysterious, magical book and a quirky heroine to create the adventure of a lifetime!
John Braxton arrives unannounced on Lizzie Smith's doorstep looking for answers she doesn't have. She may have a magical book, but she hasn't a clue what to do with it--or even how to read it. And John's revelation that he's a Lycan isn't making the job any easier.
Before the code to the book can be cracked, Lizzie and John stumble into the middle of a power-hungry mastermind's plan. Caught up in one man's search for power, Lizzie soon begins to uncover surprising secrets about her past and powers. Can she and John put a stop to their new found enemy's plans?
Take a romp through the life of the quirky and well-meaning Lizzie as she discovers magic, creatures that go bump in the night, and maybe love.