The Glass Wall by Carmen Caine
Regularly $0.99 or FREE for Kindle Unlimited Subscribers
- A mysterious and
dangerously handsome stranger
...
- A slightly
jaded
17-year-old girl ...
- A
paranormal world
hidden within our own ...
17-year-old Sydney's only interest in life is flying under the radar.
But destiny has other plans when the tall, handsome, and unusual Rafael Channing moves into the neighborhood. Athletic and with killer looks, he wears black eyeliner like a magician and always seems to be there when she needs him the most.
What starts out as a light-hearted investigation with her gadget-happy foster father takes a serious turn when she discovers that Rafael isn't human. Add Jareth, the country's latest rock sensation, into the mix and Sydney is swept into a mysterious world of Tulpas, the Fae, and the Brotherhood of the Snake.
Sydney doesn't know she's a Blue Thread of Fate. She doesn't know the fate of humanity depends on her choice of whom to trust--Jareth or Rafael. And she certainly doesn't know that she's taken the first step on the unexpected path of love.
Witchwood Estate - Going Home by Patti Roberts
There is something very evil lurking in the woods surrounding Witchwood Estate... Witches, spells, ghosts, sprites, shape-shifters, wolves and more... For all those young at heart... Equal measure of both Magic and Evil.
Alexandria Santorini learns as a child that she comes from a long line of Harvey witches. Now, as a teenager, Alexandria must say goodbye to Catnip Cottage and the Barnabys, her loving guardians for the last twelve years, and go home to Ferntree Falls to claim her inheritance. Witchwood Estate. The home where she was born and her parents were murdered. Her journey home becomes somewhat sinister, however, when she discovers that there are those who have other plans for her and her new friends…
Grab your broomstick/dustbuster out of the closet and come along for the ride!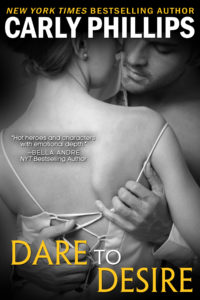 Dare to Desire by Carly Phillips
Regularly $3.99
Quarterback Alex Dare, had it all -- an all-star football career and his choice of willing women -- until injury forces him into early retirement. When he is offered a ground-breaking position with a rival team, he's intrigued, but there's a catch. He'll be working alongside the same woman he callously hurt when she got too close for comfort.
Social worker Madison Evans grew up in foster homes and knows what it means to have-not. She isn't impressed by Alex Dare's wealth or charm. Not since she fell hard for him once before, only to discover she was just one of his too-easy conquests. This time around Madison refuses to succumb to Alex so easily.
But Alex wants Madison. And if there is one thing Alex does well, it's to get what he wants. Can he convince Madison to take a risk and dare to love?